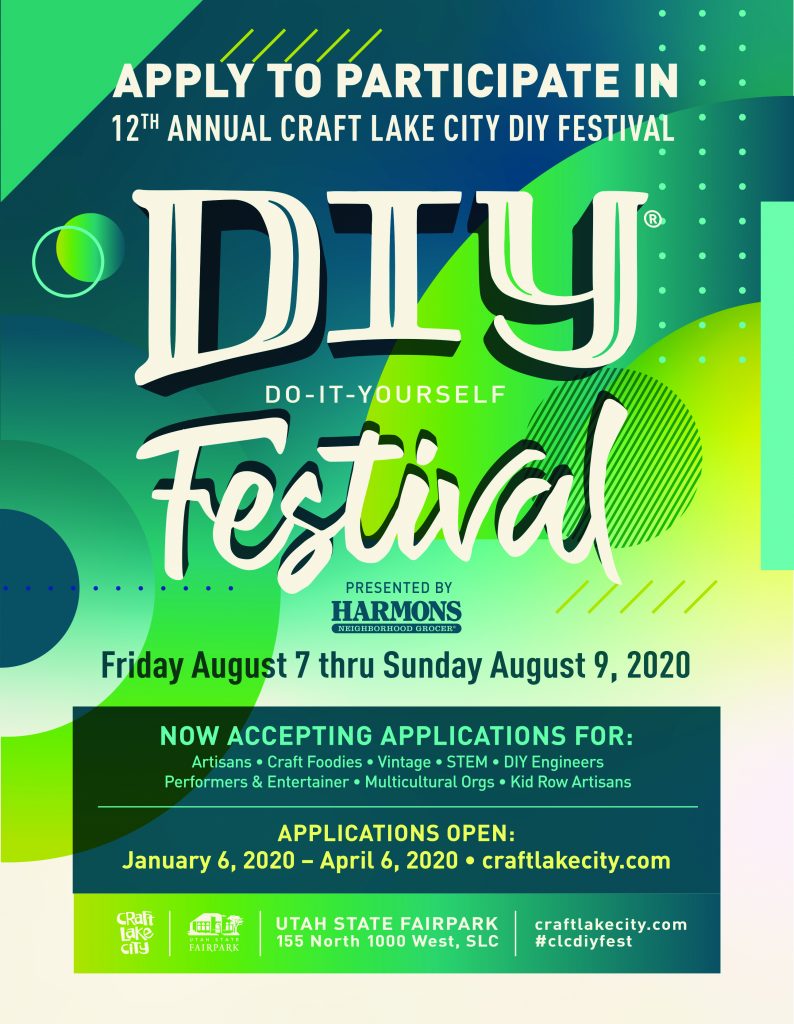 For Immediate Release: Salt Lake City, Jan 8, 2020 – Craft Lake City, a 501(c)3 non-profit organization, is pleased to announce that applications are now open to potential exhibitors and performers for the 12th Annual Craft Lake City® DIY Festival®, being held at the Utah State Fairpark in Salt Lake City Friday August 7, Saturday August 8 and Sunday, August 9, 2020. Utah-based artisans, craft foodies, vintage vendors, STEM exhibitors, DIY engineers, performers and entertainers, multicultural organizations and kid row artisans are encouraged to apply at https://craftlakecity.com/apply/ by Monday, April 6, 2020.
Craft Lake City's DIY (Do-It-Yourself) Festival is Utah's largest local-centric, three-day arts festival, with over 300 featured creatives and approximately 20,000 attendees. The DIY Festival is an event created by locals, for locals, and celebrating all things local. It encompasses do-it-yourself culture as a whole, featuring booths with work by local artists and makers, a STEM (science, technology, engineering and math) Building, two stages of music and dance performances, local food vendors and food trucks, a kids' area, a DIY workshop area, a VIP lounge and more.
"Utah is home to an incredible creative community, and the DIY Festival's new venue at the Utah State Fairpark makes it possible for Craft Lake City to highlight more makers than ever before" says Shelbey Lang, Craft Lake City Artisan and Programs Manager. "We encourage all emerging and established performers, artisans and STEM tinkerers to invest in their creative businesses by applying to the 12th Annual Craft Lake City DIY Festival."
The 12th Annual Craft Lake City DIY Festival will be held Friday, Aug. 7, from 5 p.m. to 10 p.m.; Saturday, Aug. 8 from noon to 10 p.m.; and Sunday, Aug. 9 from noon to 7 p.m. at the Utah State Fairpark, located at 155 1000 West in Salt Lake City. Admission is $7 and children 12 and under are free. More information can be found at craftlakecity.com.