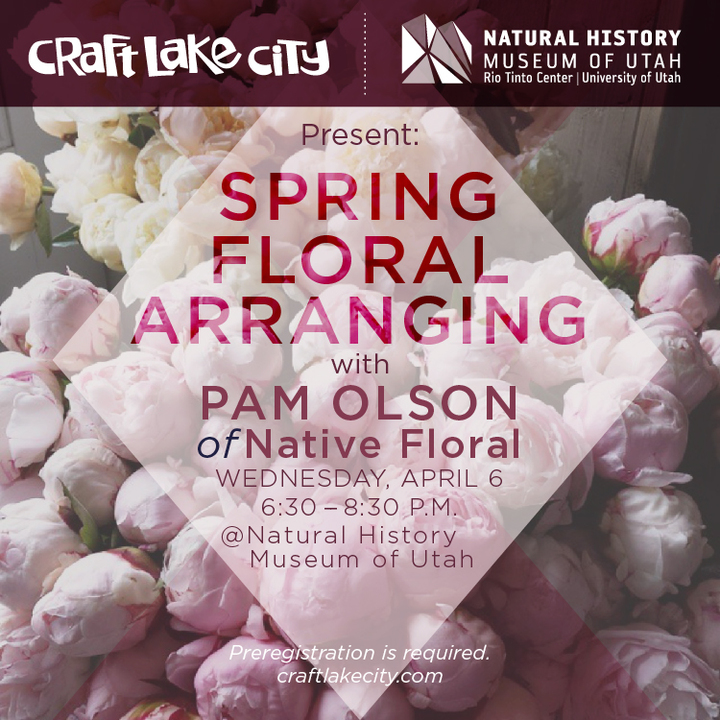 Floral Arrangement Workshop with Native Flower Company
SALT LAKE CITY, March 22, 2016 — The Natural History Museum of Utah and Craft Lake City present the March Flower Arranging workshop with Pam Olson of Native Flower Company. The workshop will be held at the Natural History Museum of Utah on Wednesday 23, 2016 from 6:30 p.m. to 8:30 p.m.
Native Flower Company is a local, full-service florist that offers high quality, uniquely-designed, and custom flower arrangements in Salt Lake City. Pam Olson, founder of Native Flower Company, has committed to buying locally sourced flowers when in season and responsible green waste management. Participants at this workshop will learn how to organize flowers into beautiful arrangements for the spring season. Participants are asked to bring their own vessels for their arrangement.
West Elm, a home furnishing retailer that helps and engages customers to shape their personal style in their homes, hosts the Craft Lake City DIY Workshop Series presented By West Elm once a month at the West Elm Salt Lake City location. Craft Lake City and West Elm's mutual goal is to compel participants of all skillsets to indulge in their creative sides to produce art and stylized home accoutrements.
There is a $30 Material Fee. Pre-registration is required, register here.
Visit craftlakecity.com/workshops or our Facebook for more information. West Elm is located at 51 S. Main St. Salt Lake City, Utah.
About Craft Lake City: We are a 501-C3 charitable organization. Our mission is to educate, promote and inspire local artisans while elevating the creative culture of the Utah arts community through science, technology and art. In an effort to keep the community active, educated and aware of local DIY culture, Craft Lake City hosts monthly workshops, gallery shows, fundraisers and an annual festival to promote regional spending with independent artisans and businesses. The 2016 DIY Festival will be held at the Gallivan Center, 239 S. Main Street, on Friday Aug. 12 from 5 p.m. to 10 p.m., Saturday Aug. 13 from Noon to 10 p.m. and Sunday Aug. 14 from Noon to 6 p.m.
About West Elm: Since it launched in Brooklyn, NY in 2002 west elm has been helping customers express their personal style at home. Our mission is three-fold: 1) we offer choice in our products and services, helping customers create a home that tells their story, 2) we build community with customers, collaborators and associates, connecting like-minded strangers through inspiration, conversation, events and activities, and 3) we focus on consciousness and honest business practices in everything we do, from handcrafted and local products to supply chain transparency and sustainability. West Elm has worked with 100+ independent designers. Their limited edition collaborations help emerging and established artists and makers reach new markets while preserving the integrity of their designs.
Workshop Attendance Policy: Participants are now required to arrive and check-in with the Craft Lake City workshop coordinator five minutes before the workshop begins or their spot will be given to a participant on the waitlist. If you wish to be added to the waitlist, please arrive 15 minutes before the workshop begins and check in with our Workshop Coordinator. You will be added to the waitlist to take the place of an absent participant's spot. First come, first serve. Waitlisters are not guaranteed admittance.