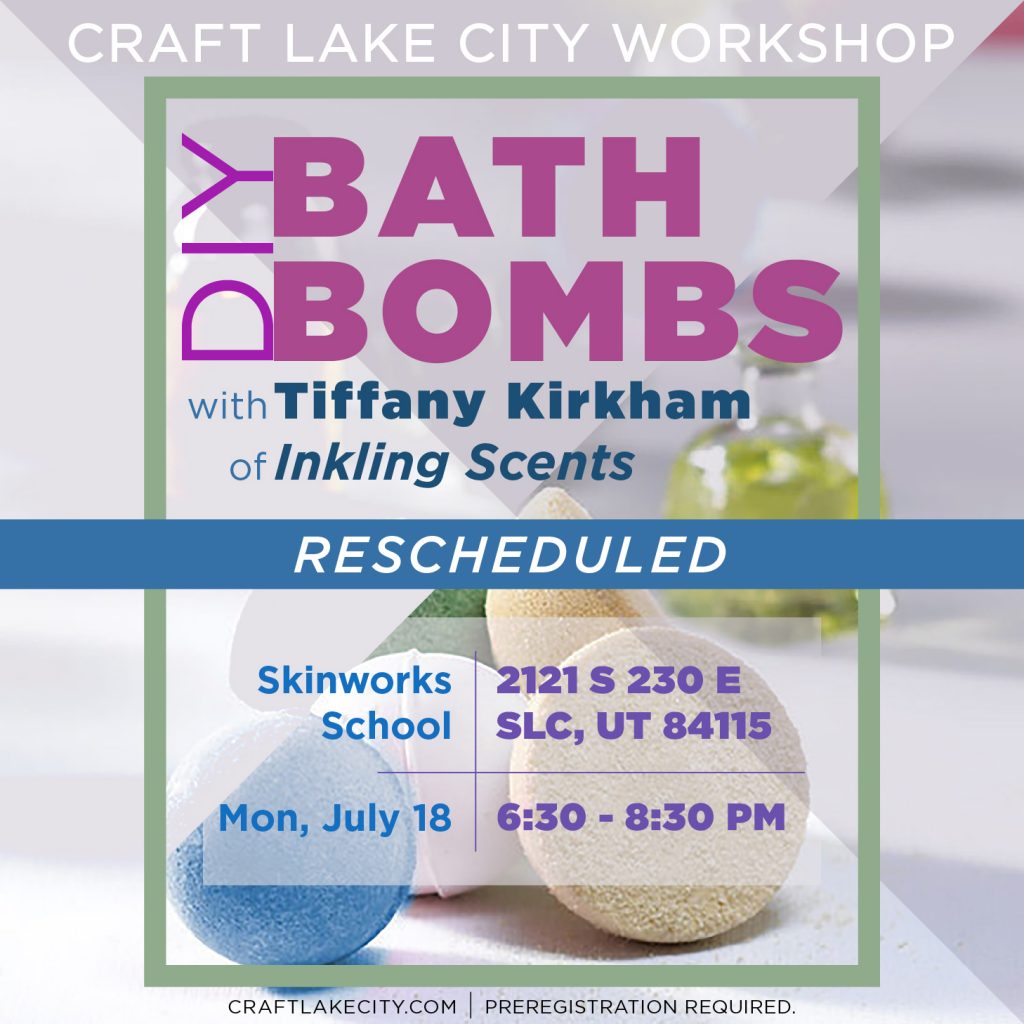 Salt Lake City, UT, — Craft Lake City announces the Essential Oil Bath Bomb Workshop with Tiffany Kirkham of Inkling Scents. The workshop will be held on Monday, July 18, at Skinworks from 6:30 to 8:30 p.m.
Inkling Scents, a local fragrance company started by sisters Tiffany and Sarah, features elegant and luxurious scents comprised of 100% pure essential and perfume oils. Since Inkling Scents' inception, the company has been featured in many publications including Fashion Affair and Women's Health. Last month Inkling was featured as a part of Ipsy, a monthly deluxe subscription service, which broadened their reach and solidified them as a local and national favorite.
At this workshop, participants will learn how to create their own fizzing bath bombs that are infused with custom Inkling scents.
Pre-registration is required. Tickets are $30 each and on-sale here. Class size is limited to 10 people. Visit craftlakecity.com/workshops or our Facebook for more information. Skinworks is located at 2121 South 230 E, Salt Lake City, UT 84115.
About Craft Lake City: We are a 501-(C)3 charitable organization. Our mission is to educate, promote and inspire local artisans while elevating the creative culture of the Utah arts community through science, technology and art. In an effort to keep the community active, educated and aware of local DIY culture, Craft Lake City hosts monthly workshops, gallery shows, fundraisers and an annual festival to promote regional spending with independent artisans and businesses. The 2016 DIY Festival will be held at the Gallivan Center, 239 S. Main Street, on Aug. 12 from 5 p.m. to 10 p.m., Aug. 13 from Noon to 10 p.m. and Aug. 14 from Noon to 6 p.m.
About Skinworks: Skinworks School of Advanced Skincare is a local esthetics school that seeks to provide students with the highest quality education and state of the art training in both the basic and master esthetics fields. Skinworks' training team is dedicated to providing the latest teaching materials, techniques and products in skincare through continuing education, seminars and personal study.
Workshop Attendance Policy: Participants are now required to arrive and check-in with the Craft Lake City Workshop Coordinator five minutes before the workshop begins or their spot will be given to a participant on the waitlist. If you wish to be added to the waitlist, please arrive 15 minutes before the workshop begins and check in with our Workshop Coordinator. You will be added to the waitlist to take the place of an absent participant's spot. The waitlist is first come,first serve. Waitlisters are not guaranteed admittance.