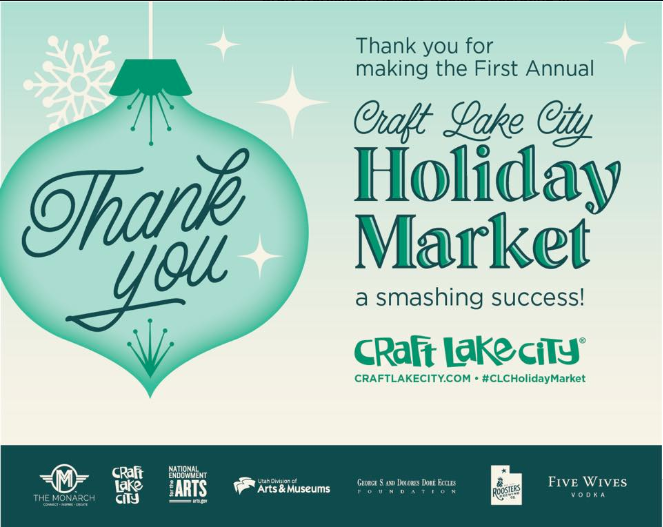 Salt Lake City, December 9, 2019- The First Annual Craft Lake City Holiday Market in Ogden was pure magic! From crafters to makers, sponsors to supporters and volunteers to staff—many people were involved in making the inaugural Craft Lake City Holiday Market a success. Two thousand Utah residents attended over the seven hour period.
40 Monarch Resident Artists opened their studios as attendees visited, offering a unique element to the Holiday Market.
Holiday cheer was heard through the halls of the Monarch as Santa stopped in for a visit. And many holiday moments were captured in Holiday-themed picture corners.
Feedback our attendee survey has been positive:
"I thought the quality of the offerings were really high."
"The vendors were wonderful! My girls wanted to spend their 5 dollars and two (artisans) made it so they could (each) buy something they loved!"
"I enjoyed all of the exhibitors and the passion for their offerings"
"I like how the event involved the local artists that have studios in the venue. It is nice to know such lovely people created beautiful things that now will be part of my home for the rest of my life."
"A lot of the vendors were not the same ones (at) the Farmers Market which was FANTASTIC. I loved seeing new artists and would love if this event maintained that. It felt more like a Park City art fest and that is exactly what Ogden needs. The space is so great and it was fun to have Ogden's Own Distillery there making cocktails.THANK YOU!!"
If you attended the First Annual Craft Lake City Holiday Market and would like to send your feedback, please fill out the attendee survey here.
Craft Lake City looks forward to bringing unique Holiday programming back to Ogden next year—on Saturday, December 6, 2020. Mark it in your calendars now.