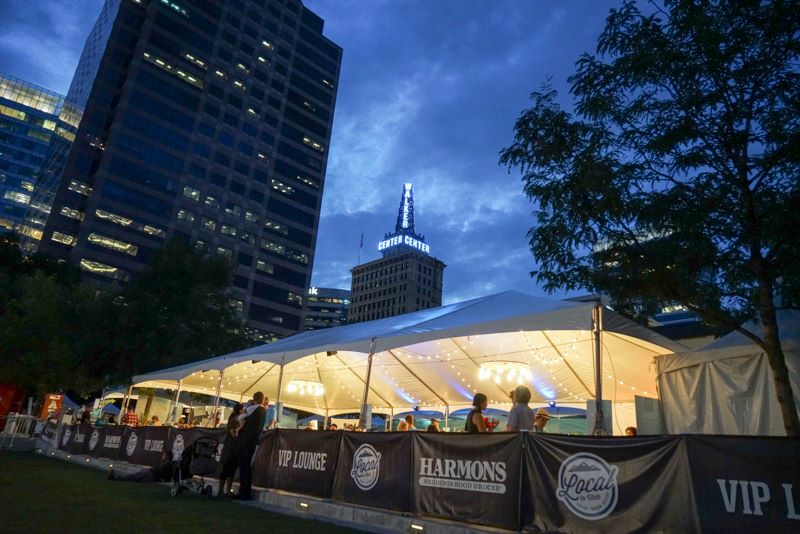 Salt Lake City, June 18 –The 11th Annual Craft Lake City® DIY Festival® Presented by Harmons and Mark Miller Subaru is taking place during the weekend of Friday, August 9 through Sunday, August 11, and offers an elevated experience for attendees in the Harmons VIP Lounge.
A central element of the DIY Festival, the Harmons VIP Lounge, located in the Heritage Building, provides a shaded and comfortable area while enjoying entertainment on the SLUG Mag Stage. Handcrafted bites and drinks are a highlight of the VIP experience, as attendees will enjoy an exclusive craft bites catered by Harmons as well as craft cocktails and mocktails, wine, and craft beer. Southern Glazers Wine & Spirits will hand dip Maker's Mark glasses in signature red wax to provide to VIP Lounge attendees with souvenirs of their VIP experience while supplies last.
Chefs from Harmons Cooking School will offer live demonstrations and tastings inside the STEM (Bonneville) building throughout the Festival weekend. Harmons VIP Lounge attendees can also capture their fun Festival memories at our Harmons VIP Lounge photo booth.
Harmon VIP Lounge tickets are available at 24tix.com for $35, which includes one-day DIY Festival admission, one-day Harmons VIP Lounge admission, two alcoholic drink tickets for guests 21 and over, and much more to be announced. Get fun swag from Harmons and our liquor partners, while supplies last. Festival attendees can upgrade their general admission tickets to a VIP experience for $28 on-site at the Festival. Children 12 years old and younger may attend the VIP Lounge with a parent for free. For more information on the Harmons VIP Lounge, please visit https://craftlakecity.com/diy-festival/vip-lounge/.
The DIY Festival will be held at the Utah State Fairpark at 155 1000 W, Salt Lake City, UT on Friday, August 9 from 5pm to 10pm, Saturday, August 10 from noon to 10pm, and Sunday, August 11 from noon to 7pm. The DIY Festival is Utah's largest local-centric, three-day arts festival, with over 250 local artisans, DIY engineers, vintage vendors, and craft food creators, the Google Fiber STEM Building, two stages of music and dance performances, local food trucks, a dedicated kids' area, and approximately 20,000 attendees. Learn more at craftlakecity.com/diy-festival.