You may have heard about STEM (science, technology, engineering and math) in relation to what your kids are learning about at school these days or where the jobs are in Utah (hello, Silicon Slopes!) but did you know that STEM is also a part of the DIY Festival?
Craft Lake City is proud to showcase makers, tinkerers and builders of all stripes and we have a unique venue, the Google Fiber STEM Building located on festival grounds, where you can see how art and science intersect and even take part in the fun.
Here are 10 great reasons to celebrate STEM at this year's DIY Festival!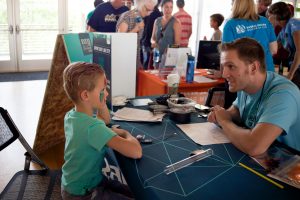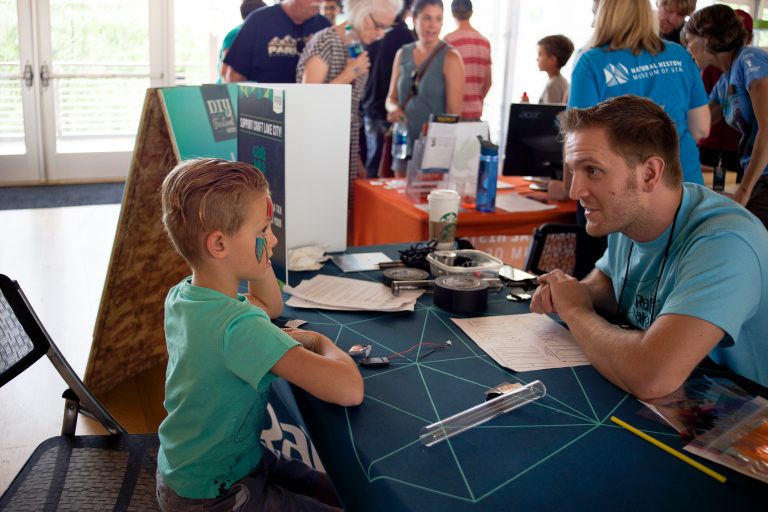 See amazing exhibitors from across the state!
The Google Fiber STEM Building features a variety of unique STEM exhibitors, from folks who engage their curiosity by making and building as a hobby, to our universities and museums who offer incredible learning opportunities. You never know what you might find and what discoveries you might make when you step into STEM.
Record your favorite festival memory!
Hop in the KUER Sound Booth to record your favorite experience at the DIY Festival and learn how KUER uses technology to create storytelling magic.
Experience VR!
Put on a headset and dive into virtual worlds with exhibitors like Morph3D, VreedomVentures and MonkeyTime Software. See how these exhibitors are combining art and science to create incredible virtual experiences.
Participate in a STEM Workshop!
Now in their second year, our free STEM Workshops are an exciting way to take a deeper dive into cool STEM ideas. Make a Zine, learn how to be a fix-it master and more. Information about STEM workshops can be found in the DIY Festival Program.
Enjoy some A/C!
Did you know you can beat the heat in the Google Fiber STEM Building? It's the only indoor venue at the festival. The balcony also offers incredible views of festival grounds and the Main Stage. It's a great place to chill out (literally) while you're at the DIY Festival.
Meet a Scientist!
Connect with scientists from our community when you visit the STEM Building! We'll have different scientists dropping in all weekend to share the fun and fascinating work they are doing. You'll get to experience unique demos and hands-on activities when you meet a scientist.
Snag a Festival Passport!
Grab a DIY Festival Passport and use it to guide your festival experience. When you return it to the STEM Building you'll be entered to win some great prizes, including VIP Tickets to the 2019 DIY Festival.
Be a citizen scientist!
Discover how you can collect scientific observations with a tool you use every day – your smart phone! Visit the Natural History Museum of Utah's table to learn how to use the iNaturalist app and start collecting observations that could be used by scientists who want to learn more about things like animal migration in Utah.
Encounter a robot!
Want to know how to build a robot? Check out the University of Utah Robotics Team when you visit the Google Fiber STEM Building. They'll have some of their robots on display and you may even get to see one in action.
Have your own hands-on STEM experience!
Unleash your inner scientist when you visit the Craft Lake City table. There, you can learn about circuits with a fun LED project, get creative with chemistry by making slime and explore engineering by making your own toy car. Tickets for these fun crafts that you can take home can be purchased in the Google Fiber STEM Building and the Kids' Area.
We hope you'll add to this list and create some new festival memories when you visit the Google Fiber STEM Building at the DIY Festival.