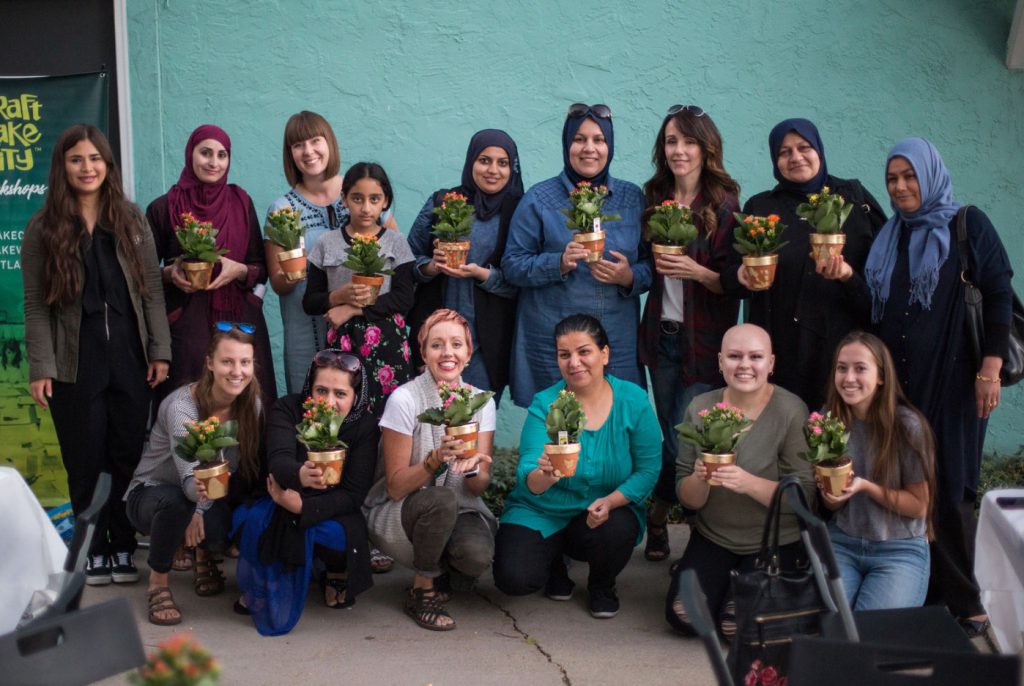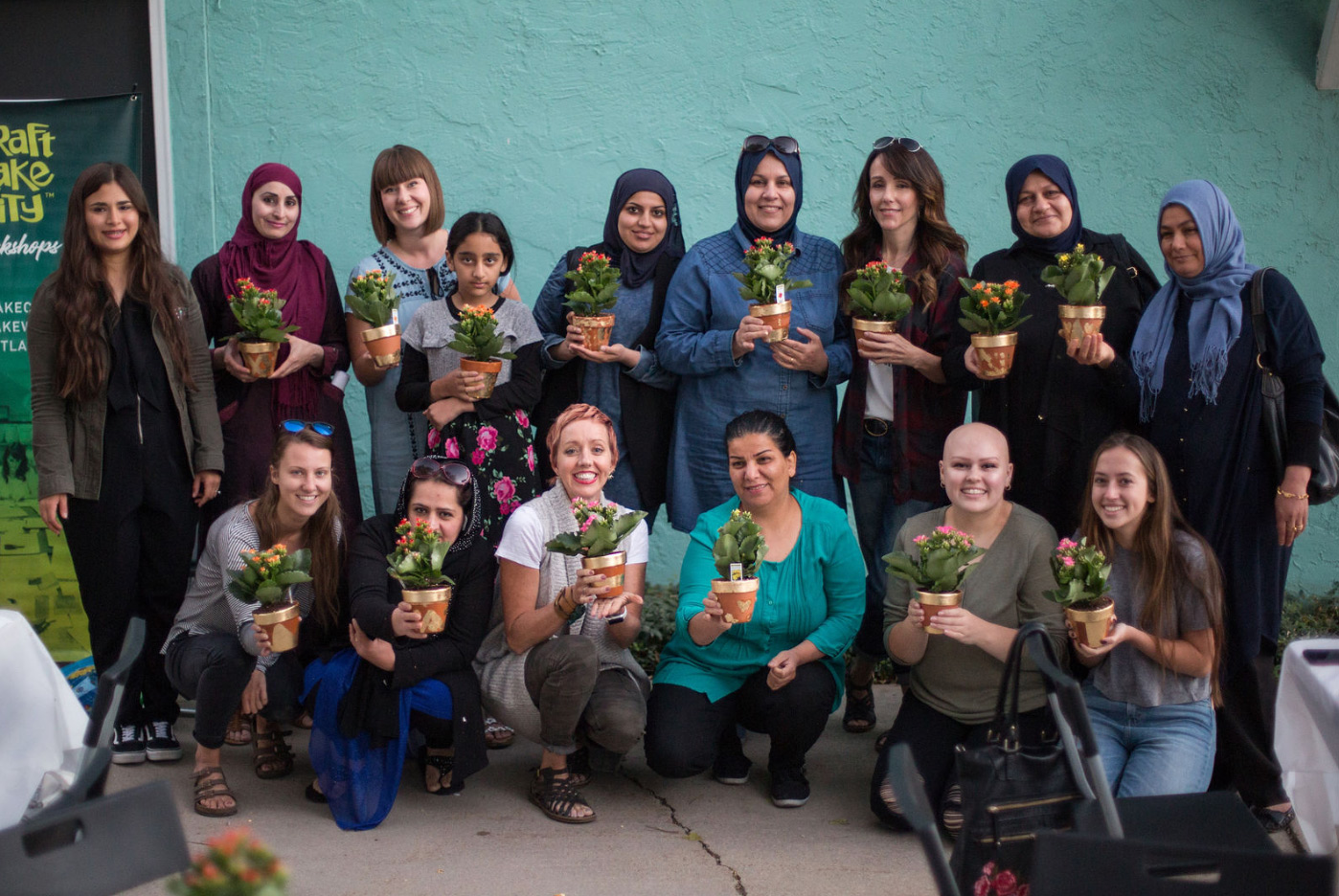 As much as we'd like to believe otherwise, the notion of "home" is not a fixed one.  Whether by necessity, force or choice, sometimes our homes become physically and conceptually uprooted. Rebuilding them doesn't happen overnight.  
Women of the World (WoW), a local non-profit led by Samira Harnish, supports refugee women and their families who rebuild homes here in Utah.  Part of WoW's "Self-Sufficiency Program" teaches women to harness preexisting skills, like creativity. With this in mind, Hip & Humble recently partnered with Craft Lake City to host a workshop for WoW and the women they serve. Creating by hand can be a way to take ownership of your space — especially when the final product is also decorative!
If you caught their pendant embroidery workshop in August, you'd know that this wasn't Hip & Humble's first CLC collab.  But this one was especially close to the H&H staff's hearts. With the year's politically fraught border crossings fresh on their minds, Sheridan Mordue and her managers gravitated toward the idea of supporting refugees.  When Mordue reached out to WoW, she "anticipated a clothing drive or something." WoW had other plans in mind.
In fact, the DIY workshop was a delightfully unexpected departure from a traditional "collect-and-donate" service model. "It's not really empowering to pick through someone's old clothes," says WoW case manager Mckenzie Cantlon. Instead, WoW values process and community-building.  "This is the first time we've done an event like this, the first time we've done a craft together," she continues.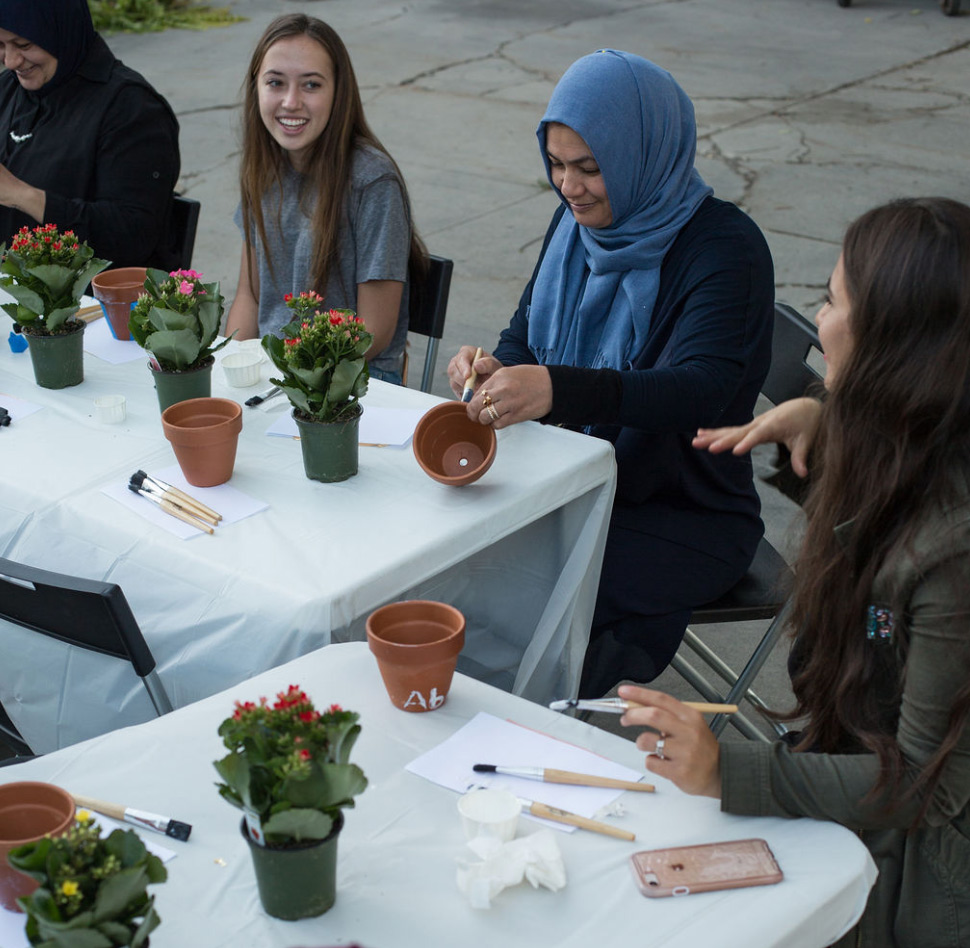 At the workshop, Mordue welcomed participants to H&H's 9th and 9th storefront, a longtime neighborhood go-to for unique gifts and fashions. "We want all women to feel safe here. This shop is always open to everyone, particularly women, even if you just need to get out of the house!  Our gift to the community is providing a safe space for women to be," — to be strong, to exist, to recover, to grow.
To rebuild a home surrounded by new language, geography and culture is also to seek community. Along with Mordue, Craft Lake City's Angela H. Brown welcomed workshop attendees by reiterating the CLC mission: "to elevate Utah's creative culture through science, technology and art," a community-building gesture that so often begins with self-expression.  
Indeed, self-expression through art can transcend language barriers, as many WoW women know from attending biweekly English as a Second Language classes. How fitting, then, that our new neighbors express themselves, find connections and share their stories at an art class.  In this case, it was a gold-leafing how-to with Lisa Lewis of Light and Ink.
Lewis has hosted similar gold leafing workshops with Craft Lake City in the past, so she was well-prepared when it came to explaining the design process.  Gold leafing is a fairly accessible craft; it served as a fine focal point for continued conversation among H&H staff and women from WoW. "This was a chance for all of us to make connections, yes, but also to provide a space for women from WoW who are very much alike to find connections with each other," says Mordue.   
If they weren't gold leafing and making new connections, H&H staff were drawing on McClelland Street's sidewalks with the kids that came along.  When the appeal of sidewalk chalk wore off, SLC manager Ashley Neff broke out local cookies and temporary tattoos. Finally, Cactus & Tropicals provided workshop attendees with flowers to fill their newly-embellished clay pots.
If you want get involved with WoW, take note: The non-profit is currently looking for volunteers and mentors in the South Salt Lake and West Valley regions!  Check out upcoming volunteer opportunities online at www.womenofworld.org.