Past Artist Workshops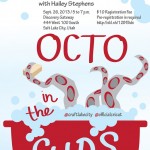 Cricut and Craft Lake City presented Craft Lake City's first children's workshop, taught by one of our teen artisans who particpated in the 2013 DIY Festival, Hailey Stephens. Hailey taught workshop participants how to create polymer clay figurines.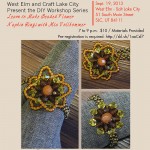 Mïa taught workshop participants how to make beaded napkin rings! Using glass beads and a weaving technique popularized in Asia, participants learned to make a three dimensional ring in the shape of a petalled flower.  Students left with their very own ring, and the knowledge to make many more!
Cricut presented the Craft Lake Artist Workshop Series on July 10, 2013, featuring Emily and Lynette Cooper of Emily Elizabeth's Designs. The workshop was held at Garage on Beck (1199 N. Beck Street) from 7 p.m. to 9 p.m. Emily and Lynette guided participants through the process of creating their own, unique owl magnet or [...]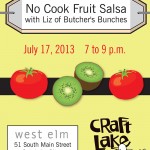 West Elm and Craft Lake City presented the DIY Workshop Series featuring Liz of Butcher's Bunches. Liz taught workshop participants how to make their own no cook, fruit salsa! Showing a step by step method to simple, delicious salsa that participants were able to customize themselves.
West Elm proudly presented the DIY Workshop Series with Craft Lake City. Participants learned how to hand carve and paint bars of soap into flowers, using step by step instructions from Subin Doenges. Subin was born and raised on a farm in northeastern Thailand, moving to Utah in 2008 to join her husband Scott. They [...]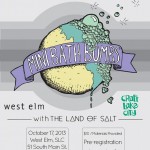 Erica Richardson and Amanda Mears from The Land Of Salt will be teaching workshop participants how to create their very own bath bombs. These cute little creations create instant bubble baths on contact with the water, making them a fun visual item and awesome gift. October 17, 2013 West Elm Salt Lake City 51 South [...]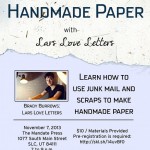 Learn how to make paper from scraps, with Brady Burrows of Lars Love Letters. Burrows has been making posters, cards and other paperworks from junk mail and other paper materials for years, and now you too can learn how to recycle piles of useless scraps into a homemade product. November 7, 2013 The Mandate Press [...]
The June 2013 installation of the West Elm DIY Workshop Series featured Sign Painter, Katy Willis, who taught workshop participants the basics of sign painting! Katy gave a tutorial on basic brush lettering ('casual lettering'). Participants used the techniques to create their own hand-painted "Eat" sign. There was also a guest lettering appearance by CLC [...]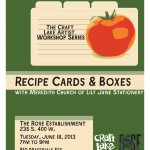 Meredith Church taught workshop participants how to hand letter recipe cards and guided them through creating a paper recipe box holder using the Cricut machine. Participants were able to add cutouts to their cards and decorate their boxes once they are cutout and put together.
Join West Elm and Craft Lake City for the latest DIY workshop event as Nicole Choules will be teaching workshop participants the basics of cross stitching! Choules has been creating her own handmade bags and designs for years through her website, showing off her designs and creations as her skills have grown. Now you can [...]