Summer is finally here and that means: it's DIY Festival Season! Before our Artisans, Vendors, Performers, and Engineers buckle down to prepare for the big event in August, every year Craft Lake City invites the CLC DIY Festival Participants to get together to mix and mingle and celebrate their acceptance to the DIY Festival. This year's exclusive invite-only event took place at Publik Coffee Roasters on Thursday, June 6, 2019.
Our annual Participant Mixer is such a great opportunity for networking in the local Utah arts community. The event comes together each year thanks to talented individuals behind the scenes. Let's take a look!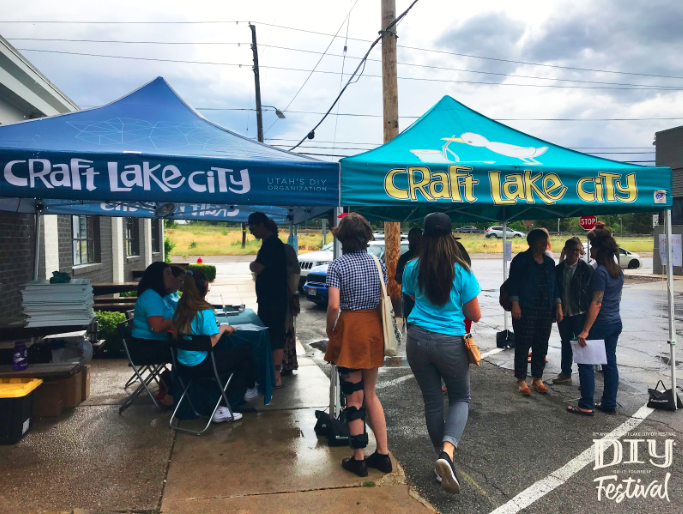 Volunteers assist Participant Mixer guests at the 2019 Participant Mixer. Photo and editing by Manda Bull.
Craft Lake City staffers Shelbey Lang, Jeda Higgs, Amy Stocks, Tara Olson, with Kristin Baird creeping in the back. Photo and editing by Manda Bull.
Another great way to get involved with the local Utah arts community is to become a Craft Lake City volunteer! We had a great group of volunteers staff the Participant Mixer. Everyone was in great spirits despite the rainy weather. We couldn't do our events without volunteers. There are lots of opportunities to represent our organization at summer events and the DIY Festival in August. Join our Volunteer group on Facebook for updates.
Our annual Participant Mixer event is a great time for our staff members to meet our participants while getting an event under their belts. We are hiring for key DIY Festival positions. Come join in on the fun.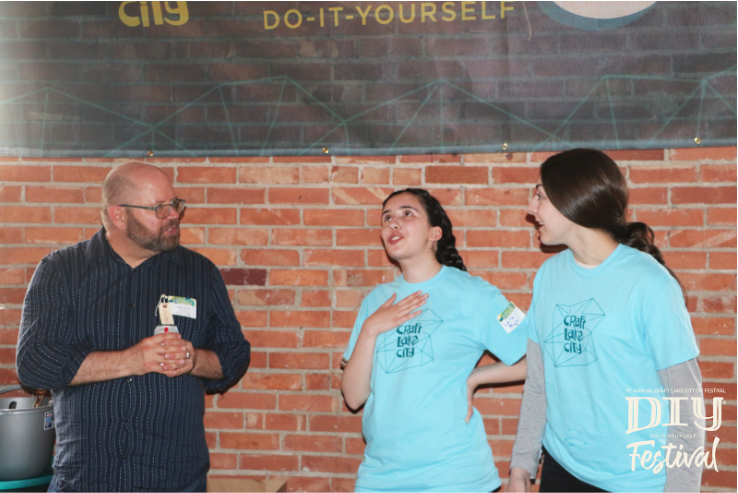 Advisory Board Member, Barton Moody, with Craft Lake City volunteers. Photo by Maria Torres. Photo editing by Manda Bull.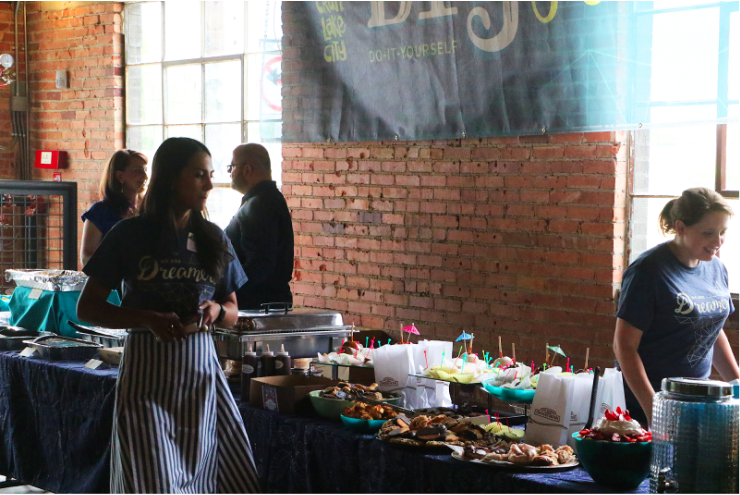 Craft Lake City staff members Tara Olson and Chelsea Joliet scan the buffet table, while Advisory Board members, Brittany Golden and Barton Moody chat. Photo by Maria Torres. Photo editing by Manda Bull.
This special event wouldn't happen without the help of our Advisory Board. Tax attorney, Barton Moody, went above and beyond by sponsoring the Participant Mixer and providing a very impressive spread of gourmet bites for our guests to enjoy. We are grateful for his hosting expertise at this event.
Many of our Advisory Board members supported us by staffing and catering the event, plus raising 91 lbs. of food donations for the Utah Food Bank!
Advisory Board member, Pam M. Olson of Native Floral Company, blessed us with beautiful flower arrangements that completely transformed the space into a Bohemian den.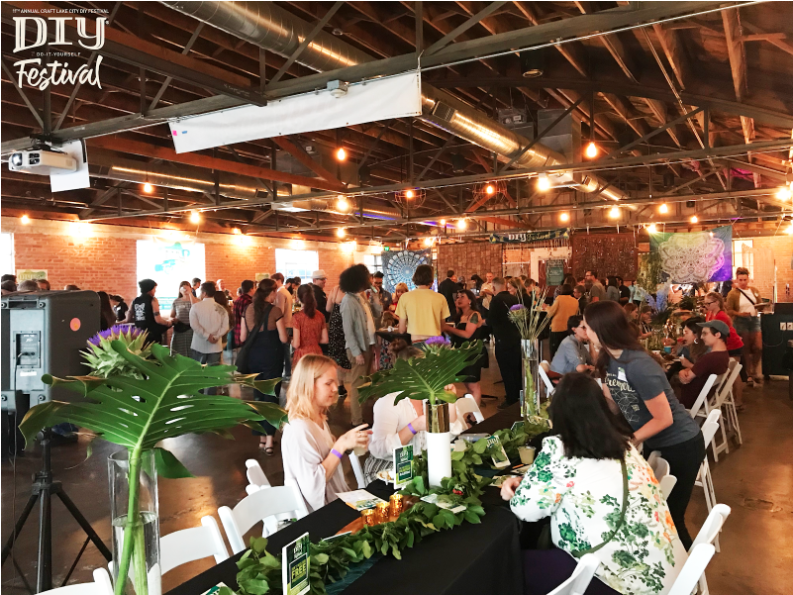 Beautiful flower arrangement by Native Floral Company. Photo and editing by Manda Bull.
Staff from Top Shelf Bartending. Photo by Maria Torres. Photo editing by Manda Bull.
There are always opportunities for businesses in the community to partner with Craft Lake City. Thank you to Red Rock Brewery for donating their world-class beer and Ogden's Own Distillery for sponsoring the craft cocktails made of their FIve Husbands Vodka and Porter Rye.  Top Shelf Professional Bar Services created an enjoyable bar experience for our guests. Midwest Commercial Interiors was also kind enough to lend us their parking lot especially for this event. Furniture rentals were by All Out Events and included stress-free delivery! When it comes to event planning, we lucked out by having such great community partners to work with.
To top off an already awesome party, three DIY Festival performers were able to join us at the Participation Mixer. Watch the video below for a preview. Performer schedules:
Umbels

– Sunday, August 11 at 12:00 pm on the SLUG Mag Stage

Beauté Obscuré

& Leggy Meggy – Sunday, Aug 11 at 4:15 pm on the SLUG Mag Stage

Martini Police

performed the Mixer and will play as

Martian Cult

– Friday, August 9, 9:30 pm on the SLUG Mag Stage.
Good vibes all around! Here's to a productive summer prepping for the DIY Festival. Can you believe there are only eight weeks to go?! Cheers!
https://www.facebook.com/craftlakecity/videos/2317837425130078/?__xts__%5B0%5D=68.ARBoDTcdFk3b5RDEZxka20DHeQp9S05QHDXrUz6I45_kbWicQi2q-CVtXogXeAmJJzBlmlwOQHCc9pQ3cazsbJChpIKeX6UPmcHbX2W1rkwu545v66T0z3vNir3ujcsFkj8GQg2MvYdHKJxTgeO1kaWQtmmhLUBbAoQAei1DVJsx3IjvFlV0iQiAKZieIGCM_Fvyahq4YHTkmW0M4_B2ojMZWC3AXSetU2a_-HPtdbCmpEIn1I8CbXF_lpuZ-eG0T4_t9DoD6kGP1mKmk8TOK5bW0NEBJrjYRIOqc5pBDFIql065njureU4CP5X87h5WyeZ-pb91a7_2WMcp1mcTQ3HCezW65LciWYZKmMEqGCoyv_Ii6QM8d8kkHh7t7LPsTzpVLgSNJ-bw5oEnzqoTr0oQj9mqpZJDkBokhYndYBPtrktjK9Ew50Qw7iHWUmQ&__tn__=-R
Blog post by Manda Bull, VIP Lounge Manager, manda@craftlakecity.com