If you have ever walked along Broadway (300 S.) in Salt Lake City, you may have noticed some steel frames, or plakats, lining the sidewalks. These plakats are the platform for Craft Lake City's outdoor exhibit, Celebration of the Hand.  A partnership with nonprofits The Temporary Museum of Permanent Change and Craft Lake City , the exhibit first debuted in the Summer of 2012 as a way to highlight and showcase the work of local artisans participating in Craft Lake City's annual DIY Festival. This summer, Craft Lake City is utilizing their DIY Fest volunteers to fill these steel forms with a craft installation showcasing the Craft Lake City DIY Festival icons.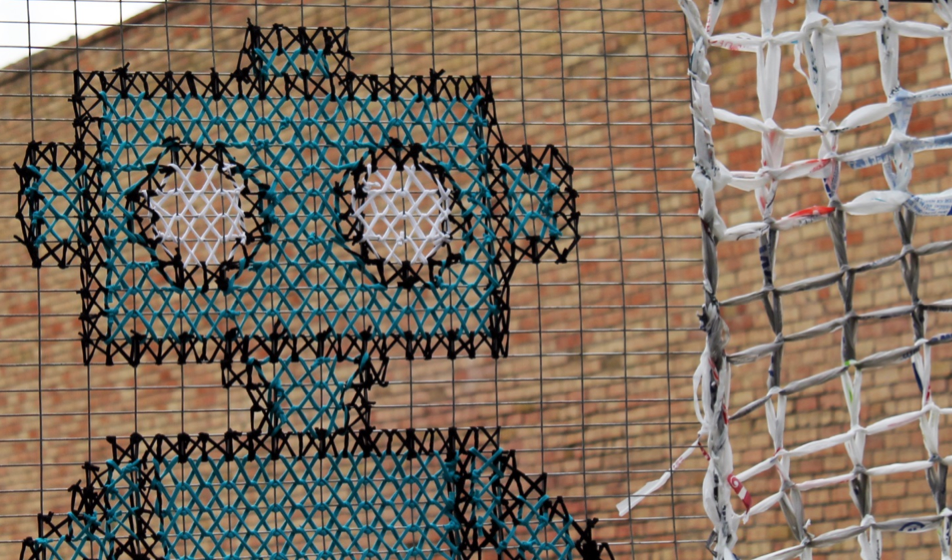 Last week, we installed the first installation in this series, located on West Temple and Broadway in downtown SLC (pictured below). 14 more plakats will be installed before Craft Lake City's DIY Festival on Aug. 8–9. Each of the icons were transformed into large scale cross stitch patterns with the help of CLC Volunteers Janet Lee, Rachel Hayes and Kristin Baird of Kit's Crafts. The materials used for this project include welded wire fencing, recycled T-shirts, recycled grocery bags and stained wood.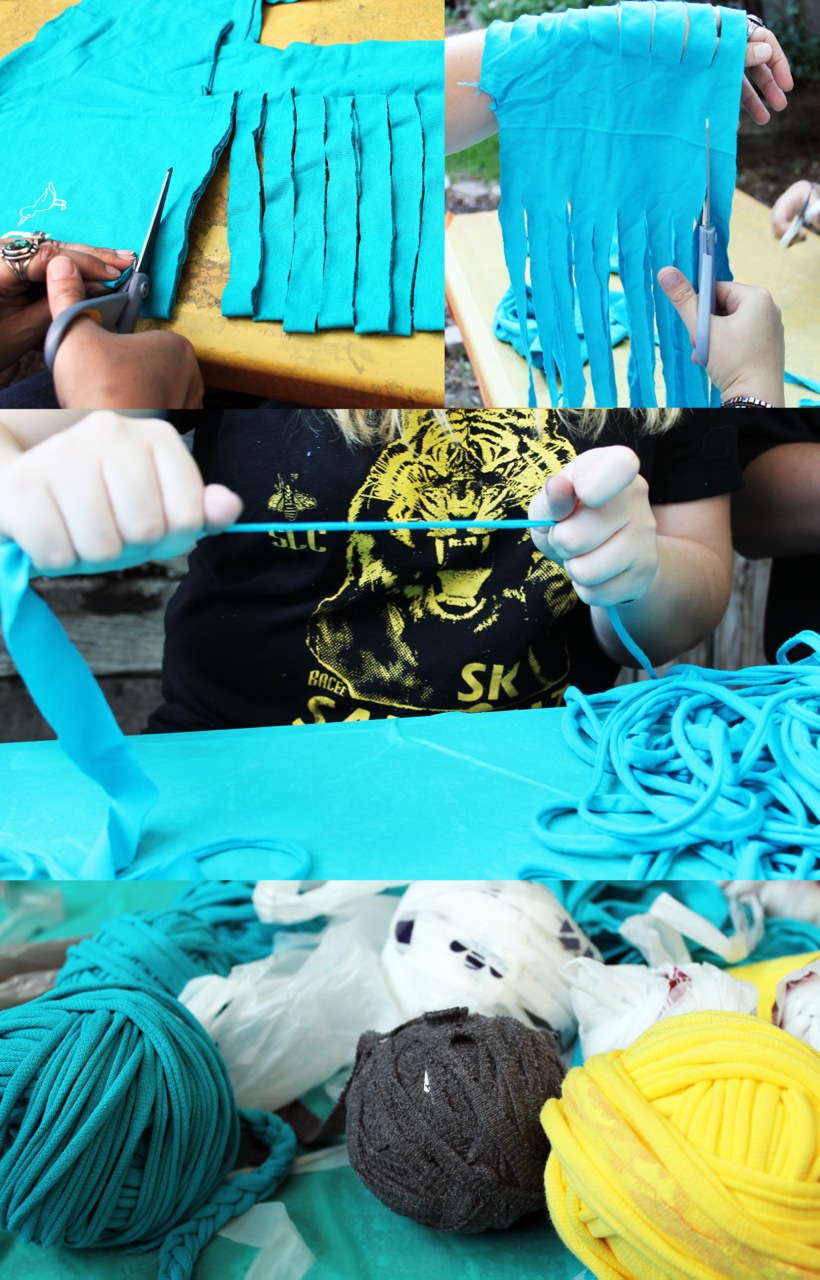 Kristin's skills as a knitter and crocheter were employed as she used her arms to knit the grocery bags into the net filling the right side of the plakat. She also hand cut and tied the T-shirt strips, creating the robot icon. Janet Lee transferred the icons into patterns that Kristen could use to crochet, while Rachel procured the fencing and old T-shirts.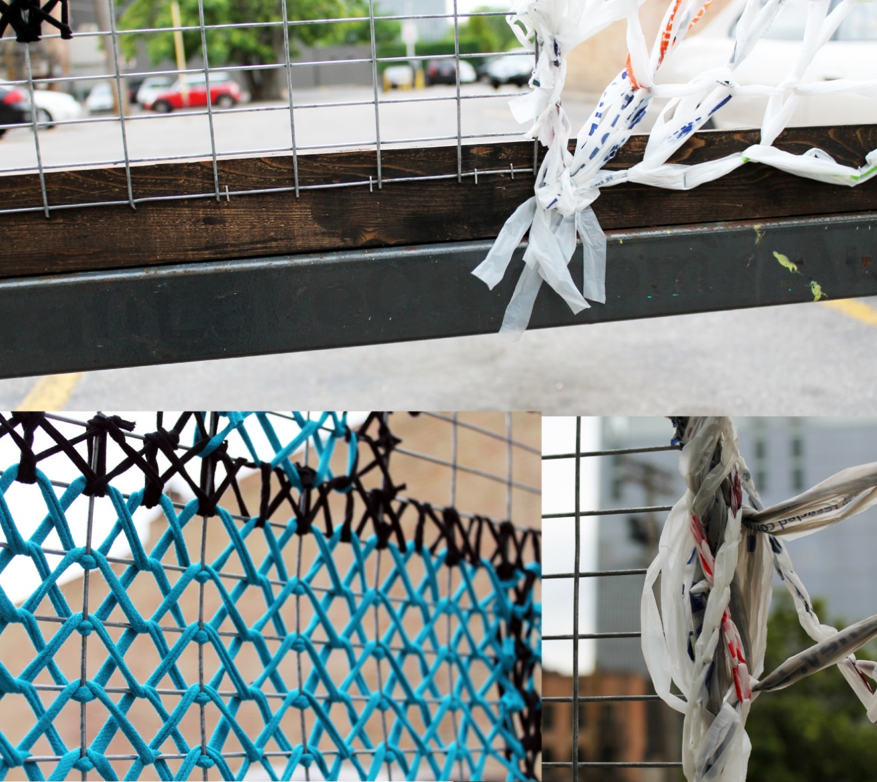 Craft Lake City volunteers will be working over the next two weeks to create 14 more upcycled works that will be installed as they are finished. If you would like to volunteer to help us with this exciting project (or to help with the DIY Festival), contact Jen Murdock or Nancy Burgess. If you would like to donate your old T-shirts or grocery bags, contact: Rachel Hayes.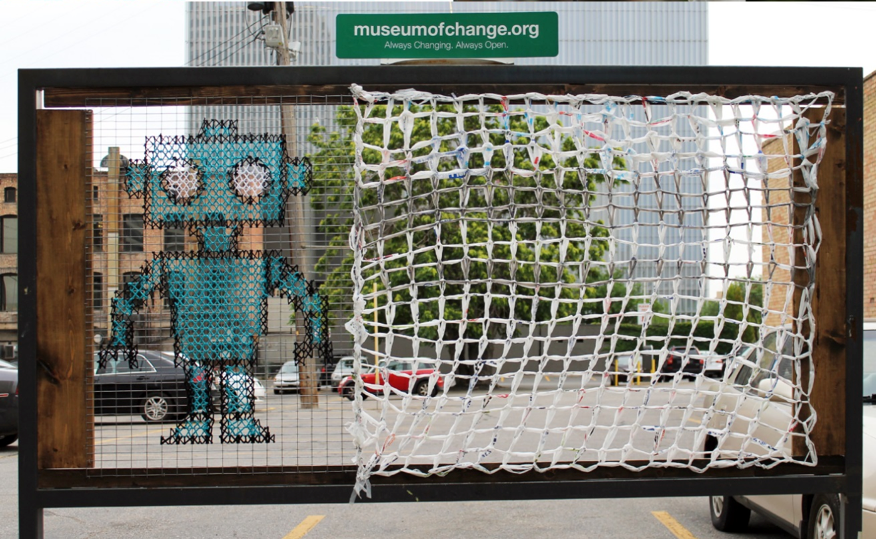 The 6th Annual Craft Lake City DIY Festival was presented by Harmons Grocery Stores and sponsored in part by Acme Camera Co., Adnews, Beacon Audio, Big Cartel, Catalyst Magazine, Centered City Yoga, Chase Bank, City Creek Center, cityhome Collective, City Weekly, Denik Journals, Design Arts Utah, Downtown Alliance, FM100.3, From Scratch, Gallivan Center, George S. and Delores Eccles Foundation, Graywhale Entertainment, Iris Piercing, 88.3FM KCPW, Ken Garff Fiat, 90.9FM KRCL, KSL TV5, 90.1FM KUER, Mailchimp, Now Playing Utah, PCTV, Salt Lake City Arts Council, Salt Lake Comic Con, Skinworks, SLC Corp., SLC Flyers, SLUG Magazine, Snap! Creativity, Spilt Ink, Tattly, Tissu Fine Fabrics, UMOCA, Utah Division of Arts and Museums, Verizon Wireless, Wacom, West Elm, Where Women Create, XMission and Zoo Arts & Parks.
Read up on Craft Lake City's previous Celebration Of The Hand exhibitions, and read Kristin Baird's blog at Kits-Crafts.com.
Save