Craft Lake City and Equality Utah are pleased to announce a new street-side installation, Local Voices: Equality Utah, now on view outdoors in downtown Salt Lake City. The social distancing-friendly project is displayed in 14 steel frames along Broadway (300 S), between 200 West and 200 East.
Through eleven visually dynamic designs and an audio tour produced by 90.9 KRCL, Local Voices: Equality Utah highlights victories achieved in Utah since 2019, including the passing of an LGBTQ-inclusive hate crimes law and Utah's recent banning of conversion therapy for minors. The installation also celebrates artists, healthcare professionals, "rebels and radicals" in Utah and beyond, including Utah Pride Center board member Nikki Boyer, activist Audre Lorde, nurse Maggie Snyder and Dr. Kristen Ries, actor Billy Porter and filmmaker Dustin Lance Black. Finally, inspired by the theme "Spark the Fire," the outdoor display identifies opportunities for our state to grow into a more inclusive and resilient community, with Equality Utah committing to advocate for the Equal Rights Amendment, take action on climate change, and support the fight for equality for QTPOC community members.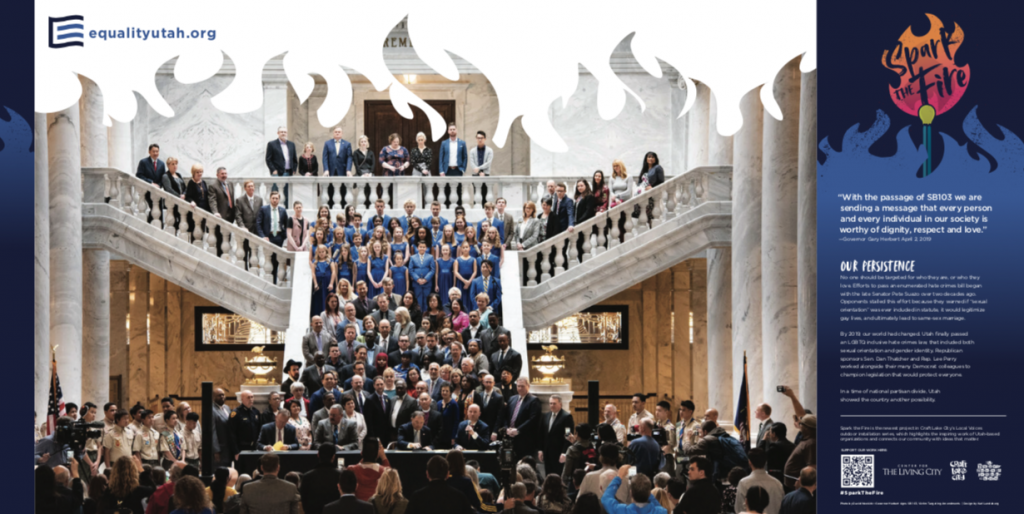 The Local Voices steel frames, also known as "plakats," are arranged in a fashion that allows for appropriate outdoor, social distancing as designated by the state of Utah. All members of the public are invited to view the project on their next solo-social distancing walk, and examine how they can take part in positive change. Local Voices: Equality Utah will be on view in all 14 frames through October 3, and then a portion of the exhibition will remain on view in 6 frames between West Temple and 200 East from October 4-December 31. Visitors will have the opportunity to scan a QR code to take an audio tour of the installation. Audio recordings were provided by 90.9 FM KRCL.
Local Voices: Equality Utah is open to the public 24 hours a day, 7 days a week, free of charge. The Local Voices installation series highlights the inspiring work of Utah-based organizations in an effort to connect the community with ideas that matter. The plakat displays rotate throughout the year.
For more information about Equality Utah, please visit https://www.equalityutah.org/ or listen to the audio tour.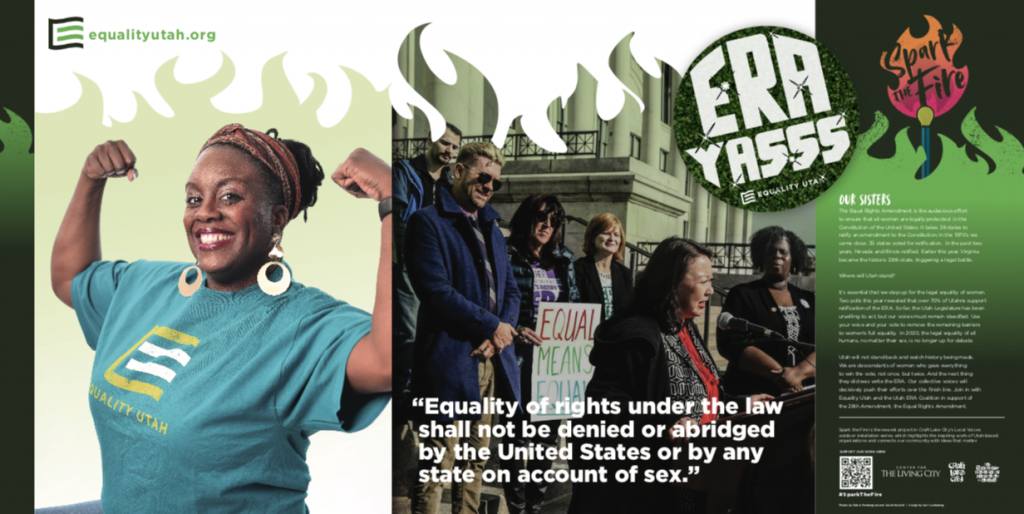 On September 21, 2020 Craft Lake City hosted a virtual discussion about this Local Voices installation. A warm welcome was given by Salt Lake City Mayor Erin Mendenhall and panel speakers included Angela H. Brown, Executive Director of Craft Lake City; Troy Williams, Executive Director of Equality Utah; Kelly Whited Jones, Co-Chair of the ERA Coalition; and Billy Palmer Host of Radio Active on KRCL. Watch the virtual discussion here and learn more about the important work Equality Utah is doing in the community.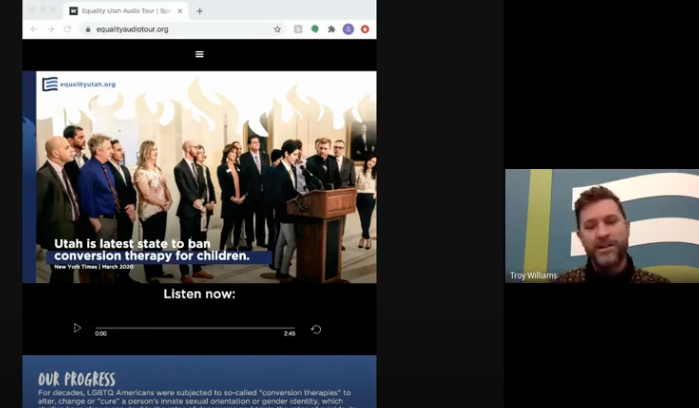 Local Voices highlights the inspiring work of Utah-based organizations in an effort to connect the community with ideas that matter. Local Voices is an installation series supported by Craft Lake City, The Temporary Museum of Permanent Change and The Center for the Living City.  For more information about the series, click here.