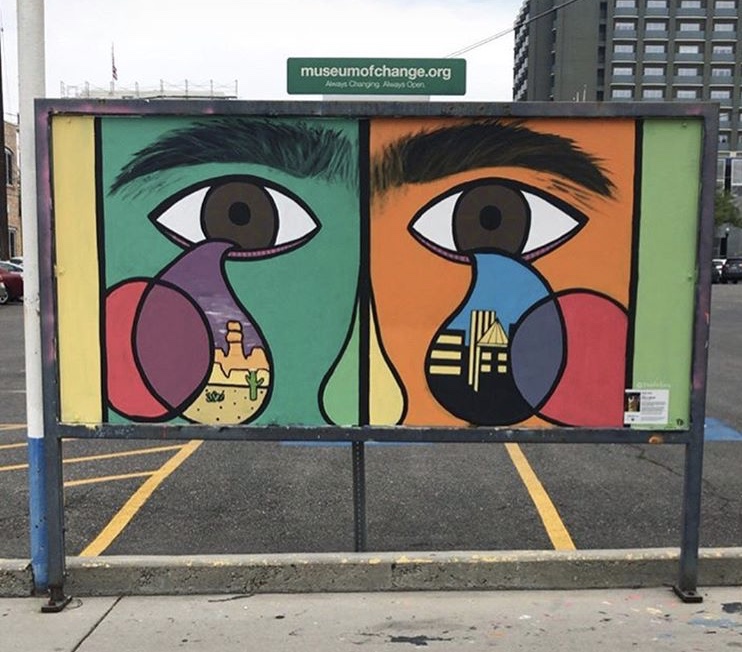 Salt Lake City, September 24 – Craft Lake City, The Center for the Living City, and The Temporary Museum of Permanent Change invite you to view the free outdoor exhibition, Celebration of the Hand: Nopalera Artist Collective, before it closes on Friday, September 28, 2018.
Informed by activist Jane Jacobs' fascination with self-organized urbanism, Celebration of the Hand is a seasonal outdoor exhibition designed to enhance and reflect Salt Lake City's cultural district through the work of Utah-based artists. Celebration of the Hand is displayed in large frames adjacent to the sidewalks along Broadway (300 South) between 200 West and West Temple, and is open 24 hours a day, 7 days a week free of charge.
Celebration of the Hand: Nopalera Artist Collective includes work by eight local artists with roots in Central or South America: Andrew Alba, Jorge Arellano, Paula Bravo, Itza Hernandez, Nestor Jimenez, Jazmine Martinez,  Ella Mendoza and Lola Reyes. Each artist created a large painting inspired by themes of diversity and the representation of Salt Lake City's many cultures. Nopalera, or cacti, are depicted in each piece, serving as a visual connector and highlighting the collective's ability to thrive in the face of harsh conditions and adversity.
Nopalera Artist Collective describes their group of local creatives as "brown, black, indigenous, migrant artists in Salt Lake City, whose work relates to culture, resistance, and the resilience of our people." The collective aims to amplify the experiences of their members' communities and empower artists to become self-sustaining.
"Through Celebration of the Hand, Craft Lake City seeks to democratize art and give voice to all of Utah's communities," says Angela H. Brown, Executive Director of Craft Lake City. "We are excited to present the work and ideas of Nopalera Artist Collective, and hope this exhibition sparks new conversations and understanding in our neighborhoods."
This program has received funding from Utah Humanities. Utah Humanities empowers Utahns to improve their communities through active engagement in the humanities.
For more information, please visit craftlakecity.com.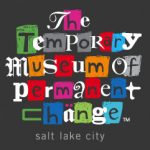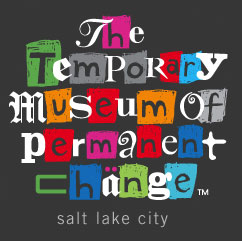 About Craft Lake City:
Founded in 2009 by Angela H. Brown, Executive Editor of SLUG (Salt Lake UnderGround) Magazine, Craft Lake City® is a 501(c)(3) charitable organization with the mission to educate, promote and inspire local artisans while elevating the creative culture of the Utah arts community through science, technology and art. Craft Lake City strives to further define the term "Craft," by modernizing the definition for handmade creativity.
craftlakecity.com  @craftlakecity
About the Temporary Museum of Permanent Change:
The Temporary Museum of Permanent Change is a community based, participatory project that uses the ever-changing development processes underway in Salt Lake City as catalysts to animate city life. The Museum engages a variety of audiences using a collaborative, multidisciplinary approach that includes performance art and video production, visual art, urban archaeology, anthropology, local history, existing businesses and ongoing deconstruction and construction processes as spectacles for people of all ages. Together these elements provide teachable moments in our efforts to manage and celebrate change. This museum has no specific address. Rather it is a construction of ideas, installations and illuminations that comprise a new way of seeing our city.
museumofchange.org

About the Center for Living City: 
The Center for the Living City's purpose is to expand the understanding of the complexity of contemporary urban life and through it, promote increased civic engagement among people who care deeply for their communities. The Center provides portals for community engagement through the lens of urban ecology to further the understanding of the interconnected human and ecological systems in our communities. The Center's multi-disciplinary approach to community engagement is applied through educational programs, collaborative projects, fellowships, on-line portals, workshops and publications.
centerforthelivingcity.org @_whatwesee_