Lunch & Learn with Craft Lake City and Equality Utah
Salt Lake City – On Wednesday, May 19 Craft Lake City and Equality Utah hosted a FREE virtual Lunch & Learn event! Attendees had the opportunity to learn more about Equality Utah's 20 year history, ask questions about their community-based programs, and share ideas inspired by the Local Voices: 20 Years of Equality Utah outdoor installation. Watch the recording of the video here.
On view outdoors in downtown Salt Lake City from May 1 to June 30, 2020, Local Voices: 20 Years of Equality Utah is social distancing-friendly project of 14 steel frames along Broadway (300 S), between 200 West and 200 East. The 10 dynamic designs highlight important moments from the organization's advocacy work championing diversity, inclusion and belonging in Utah. Visitors will have the opportunity to scan a QR code to take an audio tour of the installation produced by 90.9 FM KRCL, featuring narration by former Equality Utah board members. The designs highlight quotes and reflections from prominent activists and leaders including Laverne Cox, Doug Wortham and Equality Utah Executive Director, Troy Williams.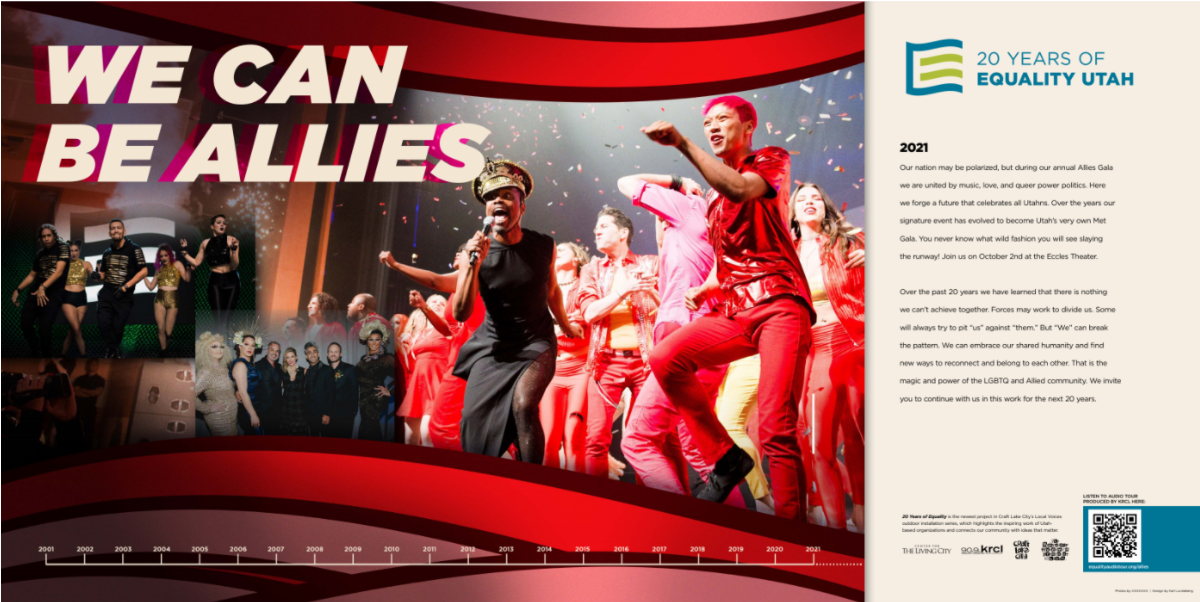 "This is our third year partnering with Equality Utah for this street-side installation," says Craft Lake City Executive Director, Angela H. Brown. "Utah's robust maker community is made up of all types of individuals. Organizations like Equality Utah advocate for equality and representation for everyone on a state level, allowing for a more inclusive creative culture."
Local Voices is an installation series curated and organized by Craft Lake City, with support from The Temporary Museum of Permanent Change and The Center for the Living City, and highlights the inspiring work of Utah-based organizations in an effort to connect the community with ideas that matter. The plakat displays rotate throughout the year.
Watch the recording of the Lunch & Learn Event here !