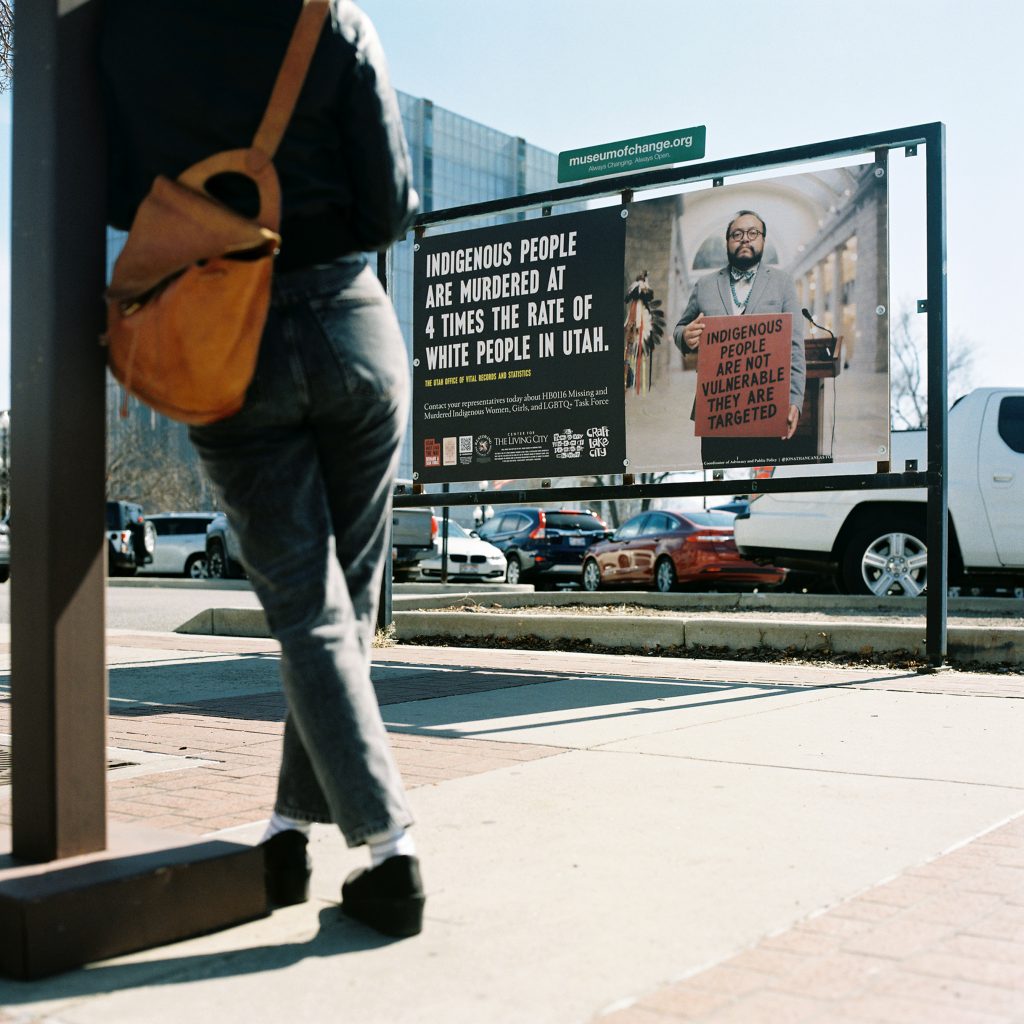 Salt Lake City, UT – Craft Lake City and Restoring Ancestral Winds are pleased to announce a new street-side installation, Local Voices: Utah Must Lead the Way, now on view outdoors in downtown Salt Lake City. The social distancing-friendly project, organized in collaboration with artist Denae Shanidiin and supported in part by The Temporary Museum of Permanent Change and The Center for the Living City, is displayed in 14 steel frames along Broadway (300 S), between 200 West and 200 East now through May 6.
Coinciding with the recent passing of House Bill 116, the installation reveals the reality that Salt Lake City is among the top ten cities for cases of missing and murdered Indigenous womxn across the nation. Eye-opening statistics paired with images by local photographer, Jonathan Canlas, depict the ongoing violence and symptoms of settler colonialism impacting Indigenous women, girls and LGBTQ+ people.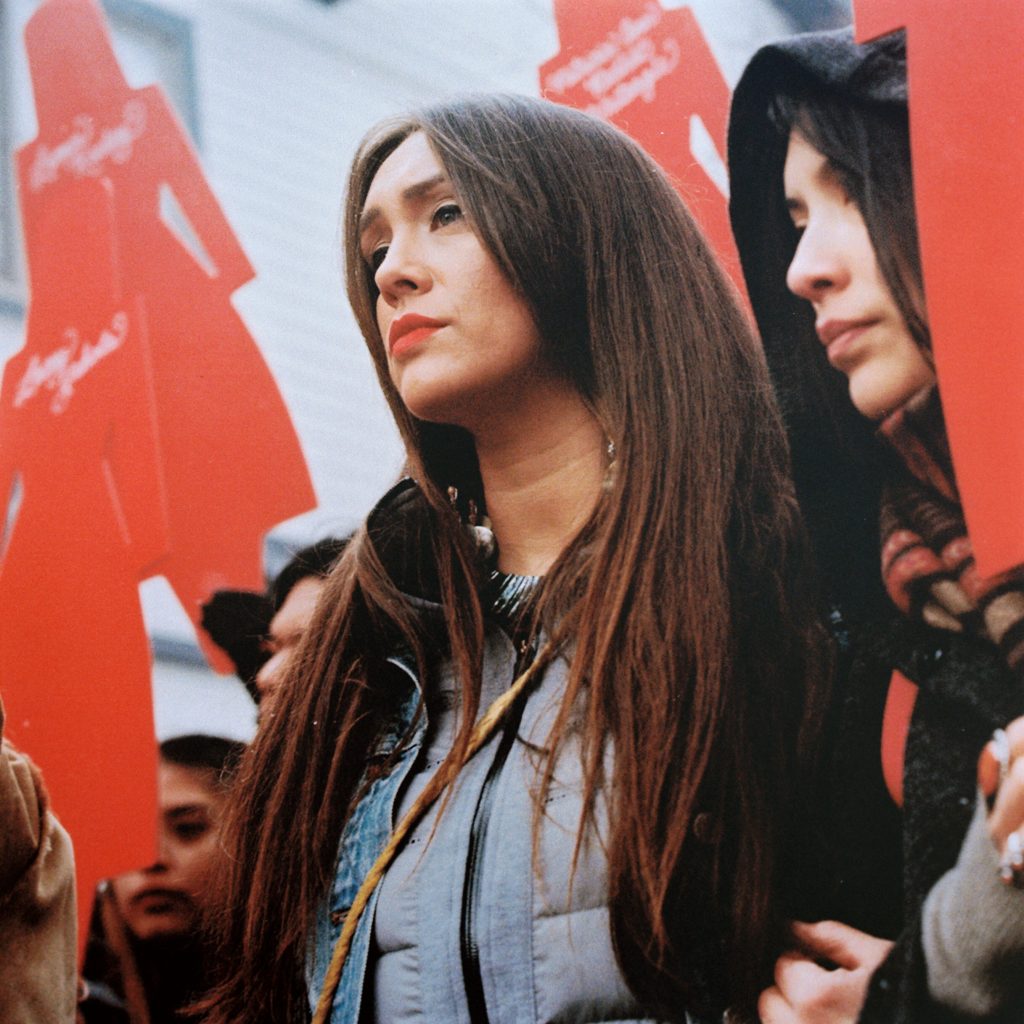 "Right now there is nothing being done to actually save the lives of Indigenous relatives at risk of murder, human trafficking, rape, etc.," said Denae Shanidiin. "Change and protection will not happen until we actually recognize, understand this issue and until we touch the hearts of those who are non-indigenous."
The steel frames, also known as "plakats," are arranged in a fashion that allows for appropriate outdoor, social distancing as designated by the state of Utah's Stay Safe, Stay Home directive. All members of the public are invited to participate in this necessary, critical community-based change by examining this installment on their next solo-social distancing walk.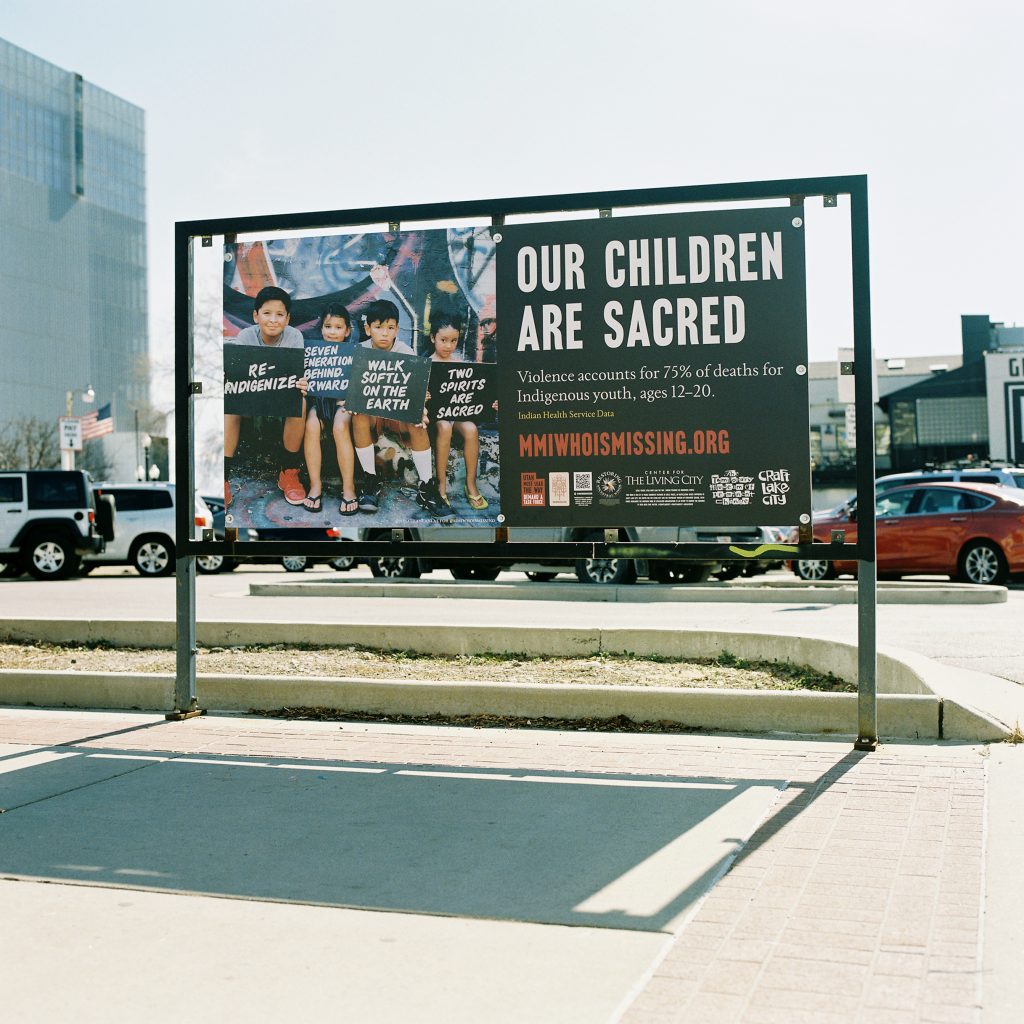 "The general public has a tremendous responsibility to the Indigenous populations that have suffered so much for non-indigenous relatives to exist with privilege and supremacy on Native Land.  Our partnership with Craft Lake City has honored us in ways we haven't been honored before, given us a voice where we have been erased," said Shanidiin.
House Bill 116, which was sponsored by Rep. Angela Romero and passed in the Senate and House in March, created a Murdered and Missing Indigenous Women and Girls Task Force. The task force will enable 15 people to identify policies, procedures, and recommendations to reduce violence against Indigenous women and girls, including social services, improved data tracking and criminal justice reform.
Local Voices: Utah Must Lead the Way is open to the public 24 hours a day, 7 days a week, free of charge. The Local Voices installation series highlights the inspiring work of Utah-based organizations in an effort to connect the community with ideas that matter. The plakat displays rotate throughout the year. Those interested in learning more should go to https://craftlakecity.com/local-voices.
Photos courtesy of Jonathan Canlas for MMIWhoismissing.
About the Temporary Museum of Permanent Change:
The Temporary Museum of Permanent Change is a community based, participatory project that uses the ever-changing development processes underway in Salt Lake City as catalysts to animate city life. The Museum engages a variety of audiences using a collaborative, multidisciplinary approach that includes performance art and video production, visual art, urban archaeology, anthropology, local history, existing businesses and ongoing deconstruction and construction processes as spectacles for people of all ages. Together these elements provide teachable moments in our efforts to manage and celebrate change. This museum has no specific address. Rather it is a construction of ideas, installations and illuminations that comprise a new way of seeing our city. museumofchange.org
About the Center for Living City: 
The Center for the Living City advocates for vibrant, adaptive, equitable communities created by and for everyone. We work to inspire civic engagement and leadership, invite creative urban solutions, and expand our understanding of the ecology of cities. Our purpose is to advance social, environmental and economic justice. centerforthelivingcity.org @_whatwesee_
About Restoring Ancestral Winds:
Established in 2014, Restoring Ancestral Winds supports healing in Indigenous communities in Utah. The organization advocates for healthy relationships; educates Indigenous communities on issues surrounding stalking, domestic, sexual, dating and family violence; collaborates with Great Basin community members and stakeholders; and honors and strengthens traditional values of all our relations. restoringawcoalition.org @restoringancestralwinds