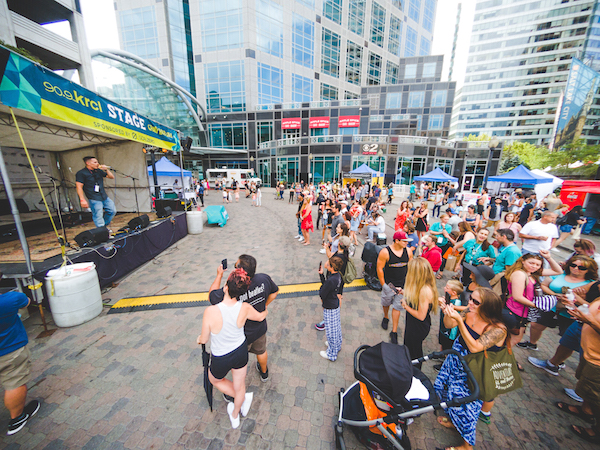 Salt Lake City, August 8 – Craft Lake City® is pleased to present a full lineup of performances by local artists during the 10th Annual DIY Festival® Presented by Harmons and Mark Miller Subaru. The DIY Festival will take place from Friday, August 10 to Sunday, August 12 at the Gallivan Center in downtown Salt Lake City.
"Utah is home to a incredible number of diverse and talented performers," says Kellie Call, Entertainment Coordinator for Craft Lake City. "We are thrilled to showcase local musicians, dancers and performance groups on two different stages all weekend at the DIY Festival, from familiar favorites to innovative newcomers."
The following performances can be enjoyed at the 10th Annual Craft Lake City DIY Festival:

SLUG MAG STAGE
Friday, August 10
Saturday, August 11
Sunday, August 12

90.9FM KRCL STAGE
Friday, August 10
Saturday, August 11
Sunday, August 12
The annual Craft Lake City DIY Festival, held the second weekend of August, features over 250 Utah-based artisans and other local creatives including DIY engineers and tinkerers, craft foodies, vintage vendors and performers. The 2018 DIY Festival will be held at the Gallivan Center, 239 S. Main Street, on Friday, Aug. 10, from 5 p.m. to 10 p.m., Saturday, Aug. 11, from noon to 10 p.m. and Sunday, Aug. 12, from noon to 7 p.m. Festival admission is free for kids 12 and under, and just $5 for teens and adults. Tickets can be purchased online in advance at 24tix.com.
For more information please visit craftlakecity.com.
Images: Photo 1 by Talyn Sherer, photos 2 and 3 by Blaine Hostetler.
About Craft Lake City:
Founded in 2009 by Angela H. Brown, Executive Editor of SLUG (Salt Lake UnderGround) Magazine, Craft Lake City® is a 501(c)(3) charitable organization with the mission to educate, promote and inspire local artisans while elevating the creative culture of the Utah arts community through science, technology and art. Craft Lake City strives to further define the term "Craft," by modernizing the definition for handmade creativity.
craftlakecity.com  @craftlakecity