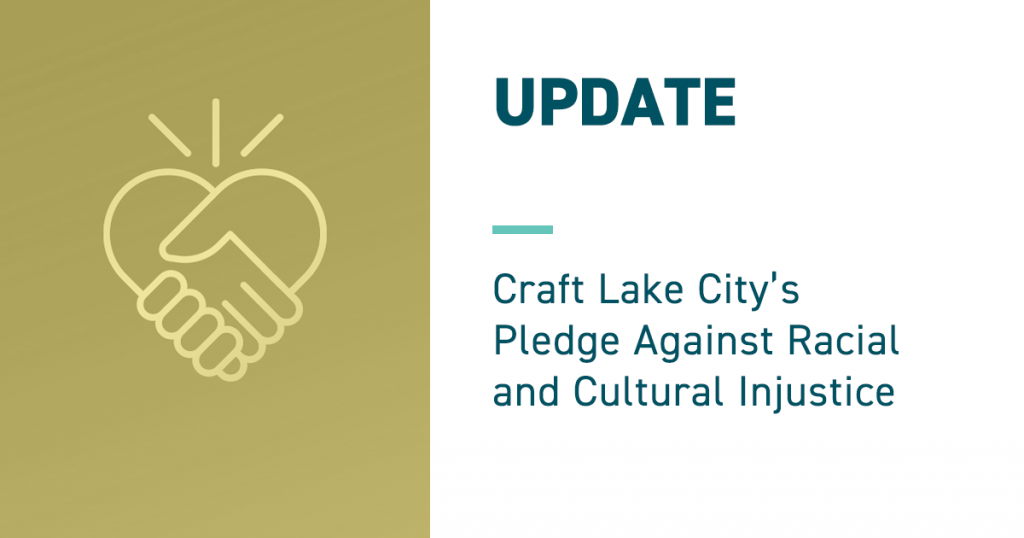 According to Stop AAPI Hate, since last March, there have been nearly 3,800 reports of hate incidents targeting Asian-Americans in the United States. These statistics reflect the continued need for societal change in order to combat inequality and racism. Craft Lake City stands in solidarity with the Asian-American community in asking for social change.
Last June, we took a pledge against racial and cultural injustice. As part of the pledge Craft Lake City promised to hold ourselves accountable and create institutional change by looking inward and taking action to be a more inclusive organization. Today, we'd like to share some of those action items with you. 
Craft Lake City formed an internal Diversity and Inclusion staff committee that has accomplished the following goals: 
Craft Lake City reviewed, revised and updated our 2021-2022 Diversity and Inclusion Strategic Plan. This updated plan will now be reviewed by the Craft Lake City Advisory Board. Then it will be reviewed by an external committee of community members, who will make suggestions for revisions. Once those revisions are complete, the Advisory Board will vote on adopting the Craft Lake City 2021-2022 Diversity and Inclusion Strategic Plan, and the plan will be updated on craftlakecity.com and implemented by the Craft Lake City Staff.

Craft Lake City staff members have attended the following Inclusion and Accessibility trainings taught by professional organizations within the area of their expertise:
Craft Lake City has created an accessibility statement where attendees can more easily request accommodations to our events.
Craft Lake City has highlighted the work of diverse artisans in Utah's creative community through our social media accounts.


Craft Lake City's Sponsored Families Program has been expanded to include community organizations who work with indigenous and refugee populations, such as International Rescue Committee and Restoring Ancestral Winds.
Craft Lake City acknowledges that work against institutional racism is constant. We appreciate your feedback and suggestions as we continue to learn, examine our own practices, and work toward improvement.

Please feel free to contact us at info@craftlakecity.com or by calling 801.906.8521.  We will update this post with our progress as we continue our mission to educate, promote and inspire local artisans while elevating the creative culture of the Utah arts community through science, technology and art. Thank you for being a part of our creative community and for your continued support.
Best,

Angela H. Brown
Executive Director