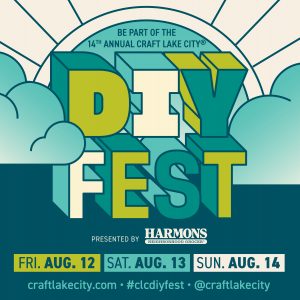 Be part of Utah's largest local-centric makers festival by applying to exhibit at the 14th Annual Craft Lake City DIY Festival Presented By Harmons! Through this celebration of all things handmade, Craft Lake City seeks to spotlight an incredible array of local talent in a vibrant (indoor/outdoor hybrid) festival setting. Did you know that we offer free Application Assistance Days & scholarship opportunities, too? We are now accepting applications for a wide variety of participant categories, so if you are a maker (or if you know someone who is passionate about DIY culture), read on to see the myriad of ways you can participate in this year's DIY Fest!
Start Your DIY Fest Application
Artisans
This is our largest category! This year, the DIY Fest will showcase over 300 local artisans. This category encompasses many types of handmade goods, including:
Jewelry
Accessories
Vintage vendors (curated clothing, furniture, & other items that predate 1990)
Ceramics
Home decor & housewares
Sculpture
Apparel
Baby & child products
Bath, body & apothecary
Embroidery & fiber arts
Stationery
Artwork (painting, printmaking, photography, drawing, digital art, collage, illustration, etc.)
We also have a few specialty categories that fall under the artisan umbrella, including:
Collectives: micro-businesses that represent a group of local artisans united under a common goal or initiative
Mission-driven exhibitors: local nonprofits, organizations and businesses interested in sharing information about their missions and programs with the creative community
World Market booths: micro-businesses that are owned & operated by creatives located in Utah who collaborate with makers outside of the country. This may apply to New Americans in our local community or individuals involved in humanitarian and/or nonprofit efforts related to creative business growth. The local business owner must be directly involved in the design and creative process, and must participate in fair trade practices. Limited availability; subject to approval by Craft Lake City.
Start Your Artisan Application
Performers
The DIY Fest is proud to feature over 50 different Utah-based performers during the course of the 3-day weekend across 2 stages! We are accepting submissions for the following types of performers:
Solo Artists
Bands
Dance Companies/Troupes
Performance Art Groups
Multicultural Performance Groups
Other: Any performance type that doesn't fall into the above categories, such as buskers, stilt walkers, & street performers
Note: Accepted performers are compensated for their time
Start Your Performer Application
STEM Exhibitors
Join us in the Google Fiber STEM building as we celebrate the intersection of science, technology, & art at DIY Fest! We are now accepting applications in our STEM category for the following types of exhibitors:
Tinkerers/Scientists: Utah-based scientists, tinkerers and/or start-up entrepreneurs who are hobbyists or who own and operate a small business single-handedly. Participants in this category want to showcase their technology and/or product ideas.
Business STEM Exhibitors: Established local Utah businesses or companies that would like to showcase their technology and/or products
Non-Profit/Institution STEM Exhibitors: Established STEM-based university programs or institutionally-affiliated organizations, non-profits or government agencies
Youth Entrepreneurs
Kid Row is a space especially for local youth artisans ages 14 and younger to sell, promote & exhibit their work at the DIY Fest! Kid Row provides youth with an opportunity to sell their work, gain entrepreneurial skills and interact with other exhibitors and the public at Utah's largest local-centric art, science and technology festival. We accept kid artisans in the same sub-categories as our general Artisan & Craft Food applicants.For school group/organization application inquiries, please contact Morgana Faye (our Artisan and Programs Coordinator) at artisancoordinator@craftlakecity.com
Start Your Kid Row Application
Craft Food
Seeking foodies for DIY Fest! The Craft Food category encompasses vendors who create handcrafted & artisanal varieties of prepackaged, edible goods. Craft Food includes, but is not limited to:
Desserts
Coffee & other beverages
Bitters
Sauces & condiments
Candy
Bread, pastries, & misc. baked goods
Start Your Craft Food Application
Commercial Food
This food category accounts for businesses that prepare food typically intended to be consumed on site at in-person events. We are seeking vendors who encompass a wide breadth of food genres & dietary accommodations!
Small Commercial Food Vendors might not have a permanent location (yet), and your operation might be limited to a single event at a time, but that hasn't stopped you from serving some of the best Utah has to offer! Food trucks could qualify for this category.
Large Commercial Food Vendors represent recognized & established names in the Utah food scene. Whether it is a small fleet of food trucks or brick-and-mortar locations, you prepare food that is typically meant to be eaten on site at in-person events. Food trucks could qualify for this category.
Start Your Commercial Food Application
Sponsors
We are always eager to partner with other organizations and businesses that contribute to our local community! With over 300 artisans, 50 performers, and 20,000 attendees, the DIY Fest offers an amazing opportunity to connect with a diverse audience and share info about your business or organization! Send an email to angela@craftlakecity.com to discuss your ideas for becoming a part of Utah's Do-It-Yourself movement!
Click Here for Sponsorship Inquiries
Interested in scholarship opportunities for this year's DIY Fest? The goal of our DIY Fest Inclusion Programming is to support individuals from underrepresented and/or socially or economically excluded communities in order to provide the entire community with opportunities to creatively and economically thrive. Whether you're seeking waived booth fees, application fee coverage, or business mentorship, we have options for you! We are currently offering scholarships for prospective first-time exhibitors in the following sub-categories:
For those interested in applying who have questions about the application process, come check out our upcoming free Application Assistance Days!
During these events, the Craft Lake City team will be ready to help answer applicant questions in real time, walk through the website and full online application, and offer a short tutorial about how to take optimal product photos at home with just a phone camera. For those who join us for the in-person Application Assistance Day, you will have the opportunity to bring your merchandise & receive a FREE professional product photography session courtesy of Essential Photo Supply! The images will be yours to use for your DIY Fest application & beyond.
Virtual Application Assistance will be hosted on
Tues., March 15, 2022 from 12 p.m.- 1 p.m. (via Zoom)
Register for Virtual Application Assistance Day
In-Person Application Assistance will be hosted on Tues., March 29, 2022 from 6 p.m.- 8 p.m. (at Essential Photo Supply: 959 E 900 S, Salt Lake City, UT 84105)
Register for In-Person Application Assistance Day
At the 14th Annual Craft Lake City DIY Festival Presented By Harmons you can display and sell your handcrafted wares, connect with an incredibly talented group of other local makers, vintage vendors, foodies, youth entrepreneurs, performers, & STEM exhibitors — all while building your business & befriending thousands of local-dedicated DIY Fest patrons! Applications are open to Utah residents until Sunday, April 3, 2022 at 11:59 p.m. MST. Click the link below to get started on your application!
Start Your DIY Fest Application!
About Craft Lake City:
Founded in 2009 by Angela H. Brown, Executive Editor of SLUG (Salt Lake UnderGround) Magazine, Craft Lake City® is a 501(c)(3) charitable organization with the mission to educate, promote and inspire local artisans while elevating the creative culture of the Utah arts community through science, technology and art. Craft Lake City strives to further define the term "Craft," by modernizing the definition for handmade creativity.
craftlakecity.com @craftlakecity
Craft Lake City's year-round programming is supported in part by the residents of Salt Lake County through the Zoo, Arts & Parks (ZAP) Program, the Salt Lake Arts Council, the George S. and Dolores Doré Eccles Foundation, and Utah Arts & Museums, with funding from the State of Utah and the National Endowment for the Arts.
The 14th Annual Craft Lake City DIY Festival Presented by Harmons is Utah's largest local-centric art, music, science and technology festival. The DIY Fest features hundreds of local artisans, vintage vendors, foodies, youth entrepreneurs, performers, & STEM exhibitors over three days the second weekend of August.