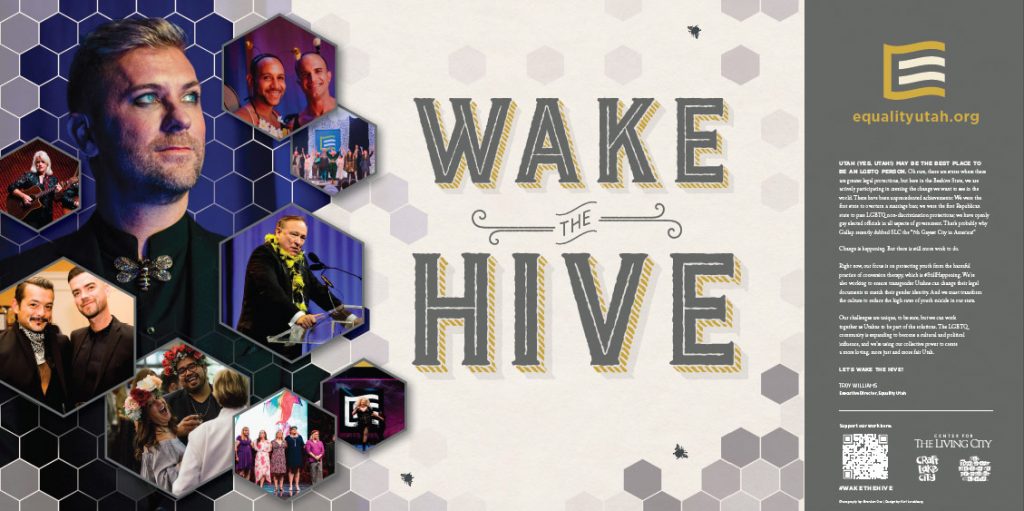 Craft Lake City is pleased to announce Local Voices: Wake The Hive. Presented in partnership with Equality Utah, the outdoor installation will be on view in 14 metal frames, or "plakats," in downtown Salt Lake City from April 22-June 22, 2019.
The Local Voices: Wake The Hive installation highlights the work of Equality Utah and the celebrations and challenges currently present in our local LGBTQ+ community, while providing visually inspiring and interactive designs meant to engage viewers and passersby. The plakats provide a venue for Utah communities to showcase their talents, work and contributions to Salt Lake City's cultural enhancement.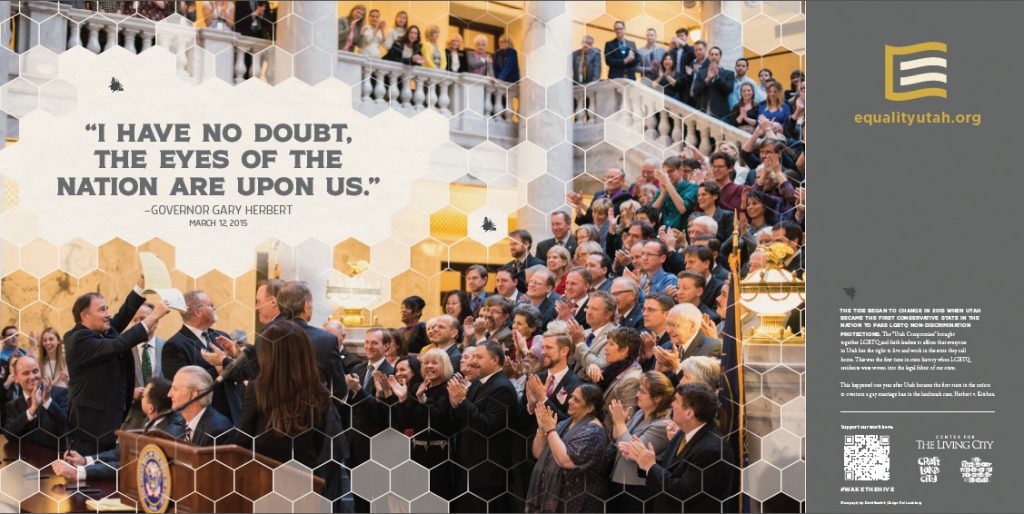 The public is invited to a free Wake The Hive Walk on Monday, May 6th from 5:30-7:30 p.m. Attendees are invited to meet at Squatters on 300 South and 200 West at 5:30 p.m. for a casual Happy Hour. We will then walk by 8 of the 14 plakats in downtown Salt Lake City. The open format will encourage discussions about Wake the Hive, Equality Utah, and the role of public art and activism in our community. Event is free and open to the public.
The Wake The Hive Walk is inspired by the national Jane Jacobs walks. The display allows the public a first-hand experience of activist Jane Jacobs' vision of self-organized urbanism, as the plakat designs contribute to community dialogue and encourage viewers to engage with ideas that matter. If you are interested in learning more about Jane Jacobs' work, visit the Center for the Living City's web site: http://centerforthelivingcity.org/.
This installation is presented as part of the Local Voices series, designed to highlight the inspiring work of Utah-based organizations in an effort to connect the community with ideas that matter. Local Voices designs, or "plakats," are installed in 14 street side frames adjacent to sidewalks along Broadway (300 S) between 200 West and 200 East. Local Voices is an installation series supported by Craft Lake City, The Temporary Museum of Permanent Change and The Center for the Living City.
For more information about Wake The Hive and Equality Utah please visit Equality Utah's website https://www.equalityutah.org/