The Craft Lake City Academy is a series of professional development workshops designed to educate and support local makers as they build creative businesses.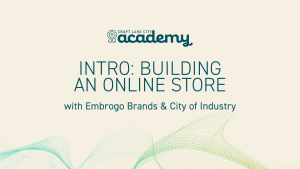 Virtual Class: Intro to Building an Online Store
July 16 from noon–1pm
$15 for general public, $10 for DIY Fest exhibitors
REGISTER HERE
The way we connect to our customers is changing; let's embrace it together! A user-friendly online storefront is a key component to finding success in your creative business. In this introductory virtual workshop, local makers Quinell Dixon and Sarah Anderson will discuss the benefits and logistics of creating a web store through an online marketplace versus a standalone web store. By providing a basic overview of their preferred services (Etsy and Big Cartel) as well as some insider tips and tricks they've picked up along the way, you'll leave the workshop with the information and inspiration you need to launch your first online shop. The virtual class will feature a live Q&A segment, so be sure to come prepared with your questions for the experts!